30 Days of Night: 30 Days 'til Death #4
By Leroy Douresseaux
May 12, 2009 - 07:45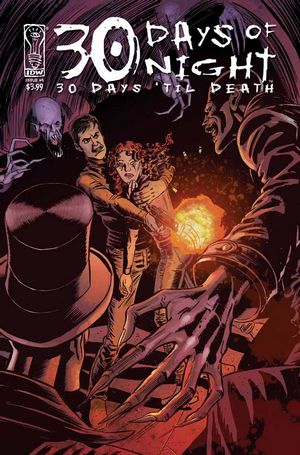 30 Days of Night: 30 Days 'til Death #4 cover image.
With the trade paperback due in June, 30 Days of Night: 30 Days 'til Death, creator David Lapham's (Stray Bullets) entry in the popular IDW horror comic book franchise, deserves another looks. The four-issue miniseries, which ended a few months ago, focuses on Russ Welleby, a vampire trying to lie low, after he and some friends ran into a vampire death squad. It seems that the vampire Elders in Cologne, Germany have decided to eliminate their American brethren, who are much too indiscreet as far as the Elders are concerned.
Russ adopts the guise of an ordinary, single white guy, living in Buffalo, NY, in an apartment with Sarafina, a heroin-addicted prostitute he cleans up. Even his neighbors, a few of them also on the peculiar side, like him, but when an old pal shows up with three other vampires, all of Russ' carefully constructed new life falls apart. And in 30 Days of Night: 30 Days 'til Death #4, the Elders' demonic death squad launch an outrageous attack the apartment building.
THE LOWDOWN: Known for his hardboiled, Pulp Fiction-like crime comics, David Lapham puts a vampire spin on a classic crime tale. The familiar tale is the one where a bad guy barely escapes the heat (in the form of determined police, murderous rivals, jealous colleagues, etc.), goes on the run, and hides out in some kind of average, American setting where virtually no one would expect him to hide. One of my favorite movies of this crime film subgenre is the 1934 flick, Hide-Out, starring Robert Montgomery and Maureen O'Sullivan, in which farmers try to reform an injured racketeer.
30 Days 'til Death is, of course, way darker and bloodier. All the attractive characteristics of Lapham's work are here – especially his knack for creating excellent characters, both major roles and minor parts, and his penchant for depicting extreme violence in a riveting and breathtaking manner.
POSSIBLE AUDIENCE: The vampire Festivus for the rest of us who aren't loyal 30 Days of Nights readers.
A
Last Updated: September 6, 2021 - 08:15