Terra Formars: Volume 6 manga review
By Leroy Douresseaux
May 19, 2015 - 19:51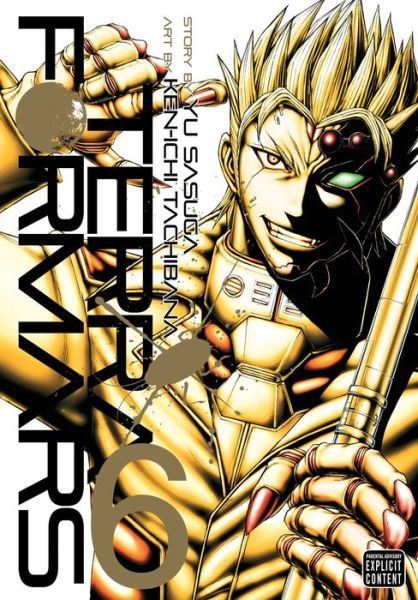 Terra Formars Volume 6 cover image is courtesy of barnesandnoble.com.
Follow me on
Twitter
.
Rated "M" for "Mature"
By the late 26th century, the overpopulation of the
Earth
reached the breaking point, so humanity had to find new frontiers and a new home. Knowing that this time would come, Earth had been in a centuries-long terraforming process of
Mars
, introducing moss and cockroaches to hasten the transformation. Two missions, Bugs 1 and Bugs 2, traveled to Mars to see the results of that terraforming, and what they discovered was the horror called
Terra Formars
, giant humanoid cockroaches.
The new mission to Mars,
Annex 1
, is launched. It is crucial to finding a cure for the
A.E. Virus
currently plaguing Earth. A safe strain of the virus must be discovered, or the mission must bring back a bunch of possible carriers. However, during the trip to Mars, the crew discovers that Terraformars have infiltrated the Annex 1.
Captain Akari Hizamaru
initiates "
Emergency Plan Delta
," dividing the humans into six divisions.
Terra Formars

, Vol. 6
(Chapters 42 to 52) opens, 24-year-old
Keiji Onizuka
uses his "
Peacock Mantis Shrimp
" abilities that were grafted onto his body.
Alex Kandori Stewart
, 18-years-old, uses her
Harpy Eagle
powers. Plus, it's a game of pitching the old baseball to fight the
Terraformars
.
Also, the United States and Japan teams reunite. A surprising discovery is made in the pyramids of Mars. Are there really human traitors and manipulators, and who are they?
THE LOWDOWN:
The
Terra Formars
manga has taken a turn these last three volumes. It is still a strange science fiction and horror manga. However, the tide of battle has turned because of genetically-altered humans whose bodies have been altered with animal and insect-like abilities.
Now, humans are a match for the buff, muscular roach-like Terraformars, so the human cause doesn't seem so hopeless as it did in the beginning of the series.
Terra Formars Volume 6
introduces more conspiracy into the series. Now, this peculiar battle manga will offer more mystery. I am curious about the direction of this series, and I wonder if it can maintain its weirdness while dealing with human conniving.
POSSIBLE AUDIENCE:
Fans of seinen manga and of weird fiction will want to try the VIZ Signature title,
Terra Formars
.
Last Updated: February 5, 2023 - 09:06