Terra Formars: Volume 15 manga review
By Leroy Douresseaux
November 24, 2016 - 17:35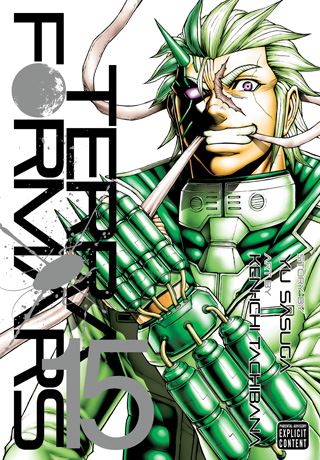 Terra Formars Volume 15 cover image
Rated "M" for "Mature"
In the late 26th century, the overpopulation of
Earth
reaches the breaking point, and humanity must find new frontiers to call home. Knowing that this time would come, Earth has been in a centuries-long terraforming process of
Mars
, introducing moss and cockroaches to hasten the transformation. Three missions travel to Mars to see the results of that terraforming, and what they discover is the horror called
Terraformars
, giant humanoid cockroaches.
Terra Formars

, Vol. 15
(Chapters 141 to 151) opens, and it's time to leave Mars, y'all! Joseph No. 1; Liu No. 44; Asimov No. 3; Shukichi Komichi No. 3; Michelle K. Davis No. 15; and Akari Hizamaru No. 6 are Annex's best fighters. They are among a handful survivors standing against a swarm of approaching Terraformars, as well as the Kuzuryu's attacks from the sky. They are waiting for a rescue ship, the
Frontier Spirit
. But there isn't supposed to be a rescue ship...
THE LOWDOWN:
The
Terra Formars
manga continues through this exceptional run in the series. Gradually, the series has moved away from the humans vs. monsters scenario to present a complex portrayal of survival and motivation.
Well,
Terra Formars Volume 15
takes readers back to monster vs. men with some hot battle manga action. I must admit that this struggle for survival slash kick-ass extravaganza turned out to be a nice read, although I wanted more Earth conspiracy fun. Perhaps the best thing that creators
Yu Sasuga
and
Ken-ichi Tachibana
do is to keep changing like the wind. That, in turn, keeps a humans vs. monsters manga from being all about the fight, and the best may be yet to come with each new volume.
I READS YO RECOMMENDS:
Fans of seinen manga and monster comics will want to try the VIZ Signature title,
Terra Formars
.
A
Rating: A /10
Last Updated: January 24, 2022 - 11:00