Terra Formars: Volume 10 manga review
By Leroy Douresseaux
January 19, 2016 - 19:11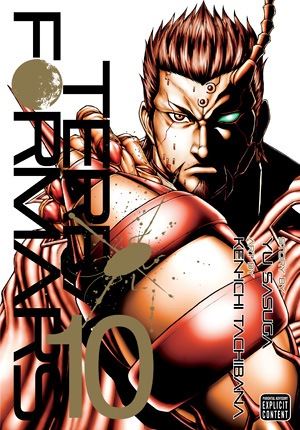 Terra Formars Volume 10 cover image
Rated "M" for "Mature"
It is in the late 26th century that the overpopulation of the Earth reaches the breaking point, so humanity has to find new frontiers to call home. Knowing that this time would come, Earth has been in a centuries-long terraforming process of
Mars
, introducing moss and cockroaches to hasten the transformation. Two missions, Bugs 1 and Bugs 2, travel to Mars to see the results of that terraforming, and what they discover is the horror called
Terraformars
, giant humanoid cockroaches.
As
Terra Formars

, Vol. 10
(Chapters 86 to 96) opens, Bao of Division 4 continues to control the
Annex 1
spacecraft. Meanwhile, a legion of Terraformars launch an attack against the humans. Super-powered
Joseph G. Newton
leads the surge to protect
Michelle K. Davis
,
Alex K. Stewart
, and
Yaiko Yanasegawa
. Meanwhile, China, Russia, the Germany/Rome union, and the U.S./Japan union fight among themselves, still trying to take advantage of the events on Mars.
THE LOWDOWN:
The twists and turns taken by the
Terra Formars
manga continue. The series constantly moves from straight horror manga to battle manga. Also, action gives way, at least for a few pages, to political conspiracy.
Leave it to
Terra Formars Volume 10
to offer a handsome, action hero, who is quite full of himself. Joe Newton's moment in the spotlight is cute, especially that he likes to romance the ladies. Still, I keep waiting for more about Earth because there is some back story and backstabbing on the home planet. I want more of "international intrigue" right now more than I want Terraformar attacks. In fact, I want more of the conflict between the human characters both on Mars and on Earth.
POSSIBLE AUDIENCE:
Fans of seinen manga and monster comics will want to try the VIZ Signature title,
Terra Formars
.
Rating: B+ /10
Last Updated: January 24, 2022 - 11:00