Terra Formars: Volume 11 manga review
By Leroy Douresseaux
March 14, 2016 - 20:05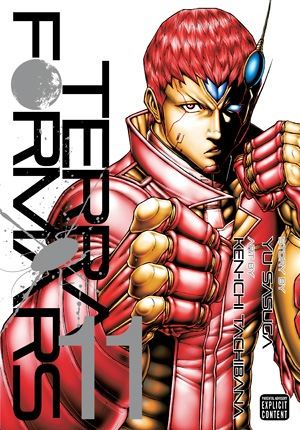 Terra Formars Volume 11 cover image
Rated "M" for "Mature"
In the late 26th century, the overpopulation of the
Earth
reaches the breaking point, and humanity needs to find new frontiers to call home. Knowing that this time would come, Earth has been in a centuries-long terraforming process of
Mars
, introducing moss and cockroaches to hasten the transformation. Two missions, Bugs 1 and Bugs 2, travel to Mars to see the results of that terraforming, and what they discover is the horror called
Terraformars
, giant humanoid cockroaches.
As
Terra Formars

, Vol. 11
(Chapters 97 to 107) opens,
Keiji Onizuka
leads
Divisions 1 and 2
on a mission to gain access to the communication control room of
Annex 1
, the third mission trip. They must send a message back to Earth.
Guarding that room is
Bao
of
Division 4
who controls the Annex 1 spacecraft. He cannot allow his rivals to send a message back to Earth to the international coalition of countries behind the Mars missions. Bao cannot allow the other nations to learn that China has betrayed them all. Hong, whose body is a biological weapon, has released a bacteria to destroy Keiji and his comrades. The biggest fight facing all the humans, however, is the wave of Terraformars surrounding the Annex 1.
THE LOWDOWN:
The
Terra Formars
manga offers a narrative that sometimes seems like a never-ending series of twists and turns. The series also constantly shifts from straight horror manga to battle manga, and the action sometimes gives way, at least for a few pages, to political conspiracy.
Terra Formars Volume 11
is like Vol. 10, and that is non-stop action. This volume is fierce with battle manga tropes, but most of the action comes from the idea of a race against time. Nearly every thing that happens in this volume is down-to-the-wire and with-seconds-to-spare. For regular readers, Vol. 11 is a page-turning delight, and sometimes, it is okay for Terra Formars to be a simple pot-boiler.
POSSIBLE AUDIENCE:
Fans of seinen manga and monster comics will want to try the VIZ Signature title,
Terra Formars
.
A-
Rating: A- /10
Last Updated: January 24, 2022 - 11:00