Terra Formars: Volume 12 manga review
By Leroy Douresseaux
May 22, 2016 - 21:01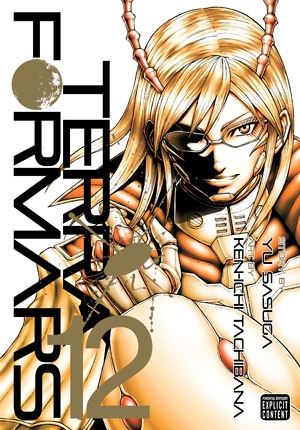 Terra Formars Volume 12 cover image
Rated "M" for "Mature"
The late 26th century: the overpopulation of
Earth
reaches the breaking point, and humanity must find new frontiers to call home. Knowing that this time would come, Earth has been in a centuries-long terraforming process of
Mars
, introducing moss and cockroaches to hasten the transformation. Two missions, Bugs 1 and Bugs 2, travel to Mars to see the results of that terraforming, and what they discover is the horror called
Terraformars
, giant humanoid cockroaches.
As
Terra Formars

, Vol. 12
(Chapters 108 to 118) opens, the Terraformars cockroaches have taken control of the
Annex 1
base complex.
Shokichi
's group tries to reach
Akari Hizamaru
and
Michelle K. Davis
. Meanwhile,
Joseph C. Newton
battles the spy and traitor
Liu
and his group. Countless swarms of cockroaches are everywhere, and
Chinese
reinforcements arrive aboard the "
Kuzuryu
."
THE LOWDOWN:
In
The Walking Dead
comic book and in the "The Walking Dead" television series, one can argue that the true monsters are not the "walkers," but the humans trying to survive the zombie apocalypse. Humans, it seems, remain the apex predator, and the walkers are just kinda hanging out and looking for some fast food. The
Terra Formars
manga offers something similar. The actions of the Terraformars are about survival, and that seems increasingly clear with each volume.
Terra Formars Volume 12
is a pivotal volume. It could be the turning point, in which creators
Yu Sasuga
and
Ken-ichi Tachibana
show the darker side of the political machinations that have been going on behind the scenes on Earth while the main story takes place on Mars. I think of this as a payoff volume for longtime readers.
It bugs me that we have to wait a few months to see what happens next. However, there are some nice reveals about a few characters, concerning their pasts and the extent of their powers. That will hold me.
POSSIBLE AUDIENCE:
Fans of seinen manga and monster comics will want to try the VIZ Signature title,
Terra Formars
.
A
Rating: A /10
Last Updated: January 24, 2022 - 11:00