Terra Formars: Volume 1 Advanced manga review

By Leroy Douresseaux
Jul 14, 2014 - 15:43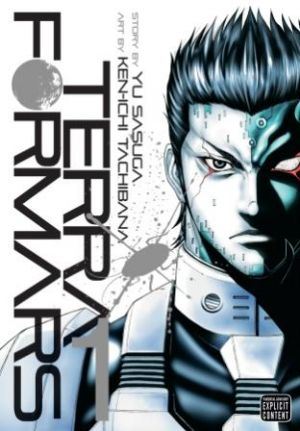 Terra Formars Volume 1 cover image
Follow me on
Twitter
.
Rated "M" for "Mature"
The latest title from VIZ Media's VIZ Signature imprint is
Terra Formars
. Illustrated by
Kenichi Tachibana
and written by
Yu Sasuga
, opening in the late 26th century
Terra Formars
is about the terraforming of
Mars
and the horror that unleashes.
Terra Formars
opens in the year 2599 AD. Overpopulation on
Earth
has reached the breaking point, and humanity must find new frontiers and a new home. For centuries, Earth has been terraforming Mars by introducing moss and cockroaches.
Terra Formars

, Vol. 1
(Chapters 1 to 6) opens after humanity's first manned mission to the Red Planet, "
Bugs 1
," was lost. Now, "
Bugs 2
," the second expedition, arrives on Mars with a crew of 15 men and women. These explorers prepare to exterminate the cockroaches that were used to transform the Martian environment.
However, they discover that the insects have mutated or evolved into giant, aggressive humanoids creatures – a race of roach men. These creatures apparently have one overriding goal; that is to exterminate all humans. However, each member of the crew of "Bugs 2" has undergone the "
Bugs Procedure
." This terrifying and dangerous experimental surgery is designed to make each human something more than human. But will that be enough for the
Terra Formars
?
THE LOWDOWN:
In over a decade of reading and reviewing manga, I have come across some strange and even stranger manga. The
Terra Formars
manga is stranger, shocking, and bizarre. There are six chapters in
Terra Formars Volume 1
, and there are at least two or three shocking reveals in each one.
I don't quite know how to describe it, but this first volume took me so many places in terms of plot that I want… no, I need to know what happens next. I think
Terra Formars
will hold readers' attention at least for the first two or three volumes. It is definitely worth a look for fans of strange sci-fi manga.
POSSIBLE AUDIENCE:
Fans of seinen science fiction manga will want to try the VIZ Signature title,
Terra Formars
.
Rating: B+ /10
Last Updated: Jun 26, 2018 - 9:28