Comics / Comic Reviews / DC Comics
Spaceman: The Deluxe Edition comics review
By Leroy Douresseaux
Nov 19, 2012 - 11:31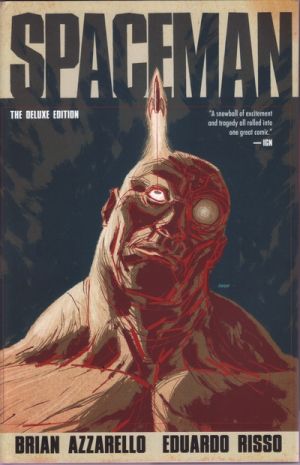 Spaceman: The Deluxe Edition cover image
Spaceman
is a recently published nine-issue comic book series from writer Brian Azzarello and artist Eduardo Risso, the Eisner Award-winning creators of
100 Bullets
. Published by DC Comics' imprint, Vertigo (also the home of 100 Bullets), Spaceman is set in a future in which the rising seas leave a significant portion of the planet a drowned world. In this time, an outcast tries to be a hero and finds fame a very dangerous thing.
Vertigo has collected all nine issues of Spaceman, plus a short story that appeared in
Strange Adventures #1
(the 2011 Vertigo anthology one-shot) in the hardcover collection, Spaceman: The Deluxe Edition. The new book also includes sketches and preliminary art that Eduardo Risso executed for the series, and there are also samples of Risso's final art for the series in pencil form.
Spaceman's title character is Orson, a simian-like man. He was born as the result of the Spacemen program, NASA's attempt to biogenetically engineer humans that could withstand space travel. Orson and his Spacemen "brudahs" (as he calls them) were born with expanded bone mass and flesh density so that they could withstand the zero gravity of prolonged space travel. Orson and a few of the Spacemen did travel in space, but once the public became aware of the program, the Spacemen were basically tossed aside.
Now, a hulking, lonely loser, Orson lives in "the Rises," a Venice-like community of broken buildings still standing in areas flooded by seawater. Orson spends his days in a small boat, trawling for scrap metal and dreaming of a better life. Meanwhile, like the rest of the country, Orson finds entertainment in "realtee" (reality television shows), and the most popular one in the world is "The Ark." This realtee focuses on wealthy couple, Marc and April, and the orphaned children who compete for a place in Marc and April's adopted clan.
One of the children, Tara, a Filipino girl, is kidnapped. Fate brings Orson and Tara together, but money and fame bring together a coalition of self-serving factions, all vying to retrieve Tara. Suddenly, Orson's need to save Tara has put his life in danger and also dug up a dark part of his past, which goes by the name of Carter.
Brian Azzarello has some good ideas in this series. Some may seem obvious, such as the notion that the Internet and hand-held devices will be the engines that drive television entertainment and not televisions and broadcast signals. Azzarello creates a future English language full of strange colloquialisms and slang. It is as if a Jamaican, a black kid from the streets, and Anthony Burgess formed a poetry-slam/rap trio. Spaceman is a richly conceived world, but I do question the series as a whole. In terms of the execution of this concept as script (or series of scripts), it is probably three issues too long, which hampers the overall narrative development. Spaceman is interesting, intriguing, and thoughtful, but somewhat flawed.
You can make an argument that the star in Spaceman is artist Eduardo Risso. Practically every page is a narrative painting, with panels imbedded in the pages like bejeweled drawings in a tapestry. Risso makes Azzarello's gaggle of ideas practical as a graphical narrative. Suddenly, the theoretical and eccentric are actual, and the unique voice Azzarello designed is given full throat through Risso's pencils and lush inking.
Of course, Spaceman: The Deluxe Edition is the best way to read this original science fiction vision. It is the best way to see this unique, but surprisingly possible future.
Rating: 8.5 /10
Last Updated: Jul 11, 2018 - 20:27