Comics / Comic Reviews / DC Comics
Spaceman #6 Review
By Zak Edwards
April 27, 2012 - 10:42
David Simon, the creator of HBO's "The Wire," was recently making headlines because for remarks he made about people commenting on his much-lauded exploration of life in the city of Baltimore. Being critical of those writing about The Wire while it was still airing, Simon argued, "it doesn't mean anything until there's a beginning, middle and an end." To some extent, Simon is correct and I feel this way about reviewing comics in many ways. Trying to pick apart something as it happens rather than after is difficult and requires taking on a certain amount of authority that isn't there. No book makes me feel this more than Spaceman.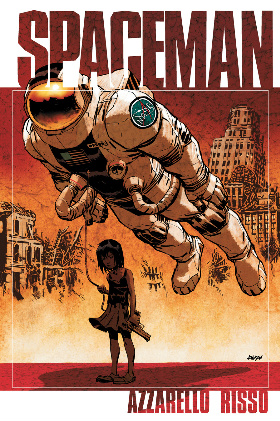 Not only is Spaceman fairly difficult to read simply because of Azzarello's dense, fictional and text message based slang, Spaceman is also obviously meant to be read as a whole, in a single seating, with no music in the background so it has your full attention. At issue six, the book reads so obviously like something we can't quite understand yet, it's hard to give it a grade. Sometimes these things are easy, the book reads fairly generically or within certain obvious confines as to predict where the book is going. Spaceman, by contrast, is still up in the air and that is maybe why its all the more exciting. The book reads like something new and different to the point of being difficult and I love it for this; I think. We will have to see. At this point, I'm not going to be convincing anyone to pick it up (Seriously, wait for the trade) and most of the thematics were put aside this time for necessary plot development, so all I can say is the book is actually bold. Not falsely bold like a Madonna half-time show, but a story that is actually trying to be something rather than sell something, trying to be an act of art rather than an act of commerce. Azzarello and Risso have successfully used their bestselling 100 Bullets to convince the powers-that-be to take a risk. And while this isn't going to outsell those fancy new hardcovers of 100 Bullets, I think people who look back on Azzarello's career are going to point to this book. I was unconvinced when this book debuted, but when I reread this thing in a few months (probably four if they keep their schedule), I know I will have a book that was worth it and says something about this team and the world I live in. I wish I could say the same about Azzarello's latest project, Before Watchmen, which is the complete opposite.
Risso is also putting out some great work. His moody lighting and almost cartoonish style serves this book extremely well. With people being genetically engineered for space, I appreciate how Risso's style lends itself to making even regular characters look a little off as well. Sure, Orson and his "freak" brothers look like cavemen, but I think the vendors selling guns to kids looking like predatory versions of Wayne Knight is equally interesting. And while most of the design work of the city itself is still fairly generic, Risso spreads of the world his characters inhabit are still wonderful to behold.
Grade: A- Awaiting with bated breath.
Last Updated: July 2, 2020 - 16:53