Comics / Comic Reviews / DC Comics
Spaceman #1
By Zak Edwards
Nov 4, 2011 - 14:15
Spaceman is Vertigo's latest mini-series, a space-age crime comic by the creators of 100 Bullets Brian Azzarello and Eduardo Risso. Set in a nondescript future where reality shows and benevolence have blended together, Spaceman follows Orson, an invalid of sorts whose attempts to irk out a living crosses paths with a kidnapped reality star. Filled with technology influenced slang, Spaceman attempts to capture a future dystopia, but succeeds more in script than in pictures. But for a single dollar, this book is more than worth the investment.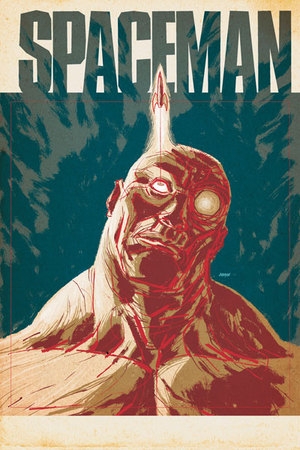 Planned out as nine issues, this book can hardly be considered a follow-up or successor to 100 Bullets, given that the book simply doesn't have the capacity for the long-term plot weaving the creators' last series was famous for. That being said, this doesn't mean Azzarello and Risso's latest project is straight-forward, breezy, or a shallow read. The book is fairly dense, complicated by Azzarello's trademark use of slang, this time of his own creation. Heavily influenced by text messaging and the varying shorthands used throughout the Internet (the characters laugh by saying lol repeatedly), sections of Spaceman aren't easy to comprehend on the first sitting. I imagine this book will read amazingly with the trade paperback collection, when the reader can settle into the language, not unlike reading A Clockwork Orange, over a couple of days. As it stands, and not aided by a fairly phonetic spelling approach, Spaceman warrants a second reading just to figure out what the characters are saying. The language works, the book's visual feel kind of resembles many post-apocalyptic settings, but Azzarello's script and approach helps set the book apart. And while some characters, especially the principle one, speak in dense slang, the subplot characters are much clearer. Azzarello is deliberate with it's use and, just like in 100 Bullets, language relates to class and geography, bringing style and content together rather than the either/or approach. The differing accents certainly aid the story, plot points are described through a television broadcast, keeping readers still figuring out the language up to speed. The world Azzarello creates is fairly unsurprising for much of it, but his themes of reality television and class difference, here in a fairly simple state, are what I am most excited for. As I said, the book doesn't have the capacity for the breadth of 100 Bullets, but Azzarello certainly has enough of a story and setting to keep readers, and past fans, very interested and entertained.
Eduardo Risso's art, for those of you who are familiar, is exactly as expected. His character designs are fairly generic future stuff, but the main character is certainly interesting to look at. Similarly, the world they inhabit isn't exactly original, pieces of Transmetropolitan pop out, along with fairly generic trash heap landscapes. But Risso's art really shines in showing off the world anyways. His architecture and paneling combinations are really cool to look at. On a technical level, the book looks better than I feel it is creatively, Risso can guide the eye and move things along at a speed he decides, which is a feat in itself, but overall there isn't anything I am too impressed by so far. Mind you, knowing Risso' capacity for moody scenes and impressive use of backgrounds and foregrounds, and the terrors that can happen just left of center, I still look forward to what's ahead.
Grade: B+ The world is nicer to listen to than look at, still worth investing in.
Last Updated: Jun 26, 2018 - 9:28