Slam Dunk: Volume 21
By Leroy Douresseaux
April 2, 2012 - 13:29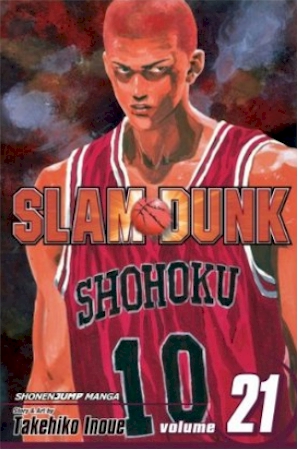 Slam Dunk Volume 21 cover image is courtesy of Anime Castle Books.
Rated "T" for "Teen"
Perhaps, the players on the Shohoku Prefecture High School basketball team do have the dedication and discipline it takes to be the best. Takenori Akagi, captain and starting center, dreams of making it to the finals of Nationals, but, as a senior, this is his last shot at a championship. But to win, hotshot freshmen, like superstar Kaede Rukawa and basketball novice, Hanamichi Sakuragi, must understand the concept of team.
As Slam Dunk, Vol. 20 (entitled Win/Loss) opens, the Prefectural Tournament between Shohoku and Ryonan High School is down to the last two minutes in regulation. The winner goes on to Nationals. Shohoku is holding onto a one-point lead, but one of their starters, Hisashi Mitsui, collapsed and is out of the game.
THE LOWDOWN: While I was reading the 20th volume of the Slam Dunk manga a few weeks ago, I was also watching an NBA game, Lakers over Celtics (Go Lakers!) and, later, the wall to wall coverage of the NCAA Men's Basketball Selection Sunday. Reading this 21st volume of the Slam Dunk manga made up for my lack of interest in the NBA games on TV April Fool's Day.
Slam Dunk isn't fooling around, though. Creator Takehiko Inoue turns the last two minutes and 16 seconds of the Shohoku/Ryonan game into an epic struggle with the kinetic energy of Jack Kirby or even a Hollywood SFX-driven action flick. The second half of the volume slows down as Inoue offers a peak at the characters and plotlines that will play in future volumes, but the basketball action, as always, rules.
POSSIBLE AUDIENCE: Readers looking for a great sports manga or comic book will find that in Slam Dunk.
A-
Last Updated: February 5, 2023 - 09:06