Slam Dunk: Volume 11
By Leroy Douresseaux
July 31, 2010 - 09:16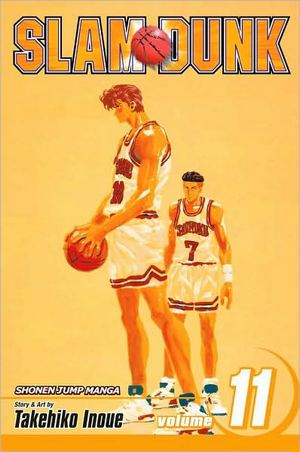 Slam Dunk Volume 11 cover image is courtesy of barnesandnoble.com.
Rated "T" for "Teen"
The Shohoku Prefecture High School men's basketball team does NOT want to come in second, and they want to make it to the finals of Nationals, the big high school basketball tournament. Takenori Akagi, the captain and starting center, has dreamed of making it to finals since he joined the team, and this year the team has the talent. But do they have the dedication and discipline to be the best?
As Slam Dunk, Vol. 11 (entitled Even a Fluke) opens, it is half time in Shohoku's quarterfinal game against talented Shoyo High. However, Shohoku's lead has evaporated, and freshmen phenom and novice basketball player Hanamichi Sakuragi (and Slam Dunk's main character) is in foul trouble. Plus, their main scorer, Hisashi Mitsui, who only recently returned to basketball, is feeling the force of fatigue.
[This volume's "Slam Dunk Overtime" NBA player profile features Olympian and Defensive Player of the Year, Dwight Howard of the Orlando Magic.]
THE LOWDOWN: Practically every month, I say the following about Slam Dunk: it captures the speed, precision, fluid movement, and passion of basketball. This is a dazzling manga, as exciting to read as the best superhero fight comic books and as invigorating as a big budget, special effects-laden Hollywood movie.
POSSIBLE AUDIENCE: A great manga and a great basketball comic, Slam Dunk is for readers who like the good stuff.
A+
Last Updated: August 31, 2023 - 08:12