Slam Dunk: Volume 10
By Leroy Douresseaux
May 31, 2010 - 13:08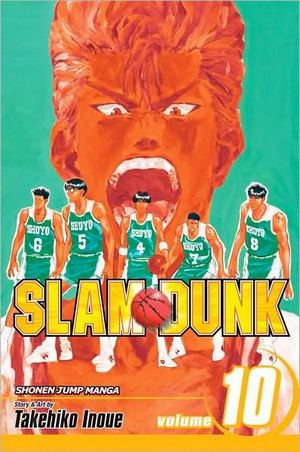 Slam Dunk Volume 10 cover image is courtesy of barnesandnoble.com.
Rated "T" for "Teen"
Winning isn't everything, but the Shohoku Prefecture High School men's basketball team does NOT want to come in second. This is the last year that the team can make captain and center, Takenori Akagi's dream of reaching the finals of Nationals, the big high school basketball tournament, come true. The team has the talent, but do they have the dedication and discipline to be the best?
As Slam Dunk, Vol. 10 (entitled Rebound King Sakuragi) opens, Shohoku is one game from the semifinals. Standing in their way is Shoyo High School, a powerhouse opponent with taller players than Shohoku has. Early in the game, Shoyo dominates the game until Shohoku bad boy, Hisashi Mitsui, uses his speed and moves to change the momentum of the game. But the biggest surprise is the sudden appearance of the Rebound King!
[This volume's "Slam Dunk Overtime" NBA player profile features former MVP, Allen Iverson, currently of the Philadelphia 76ers.]
THE LOWDOWN: It is worth repeating: Slam Dunk captures the speed, precision, fluid movement, and passion of basketball. It seems unlikely that reading a basketball manga can be as exciting as watching an actual game. However, I read this during Game 6 of the NBA Western Conference finals, and both the exciting game and Slam Dunk were giving me a double dose of exhilaration.
How does creator Takehiko Inoue do it? Witchcraft? Or maybe great characters? Even when the story takes place off the basketball court, Slam Dunk is filled with a diverse cast of motley fools, sullen teens, and colorful supporting players that will keep just about any reader engaged and dazzled.
POSSIBLE AUDIENCE: A great manga and a great basketball comic, Slam Dunk is must-read shonen.
A+
Last Updated: August 31, 2023 - 08:12