Slam Dunk: Volume 8
By Leroy Douresseaux
January 30, 2010 - 20:53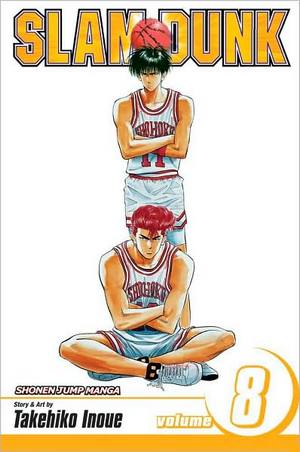 Slam Dunk Volume 8 cover image is courtesy of barnesandnoble.com.
Rated "T" for "Teen"
The Shohoku Prefecture High School men's basketball team knows that it takes dedication and discipline to be the best. This is the last year that team captain and center, Takenori Akagi, can make his dream of reaching the finals come true. The rest of the team also wants to make his dream come true. Can they do it?
In Slam Dunk, Vol. 8 (entitled Basketball), the brawl between Shohoku High players and the crew of Hisashi Mitsui continues. Hanamichi Sakuragi uses his brute strength, speed, size, and surprising fighting skills to take on Mitsui's large pal, Tetsuo. But after the clash, Mitsui, once a promising basketball star before a devastating injury, must finally face his pain.
[This volume's "Slam Dunk Overtime" NBA player profile features Los Angeles Lakers shooting guard and Olympic gold medalist, Kobe Bryant.]
THE LOWDOWN: Manga-ka Takehiko Inoue is known for (among other things) two great basketball manga – the wheelchair basketball drama, Real, and the high school sports comedy, Slam Dunk. While the former features poignant, gritty drama executed with the sharp realism of a documentary film, the latter is known for high-flying action and pugnacious, sometimes slapstick comedy.
With the chapters that make up Vol. 8, however, Inoue veers Slam Dunk into Real territory. Behind the punches and kicks is a story of a young man's hopes crushed that is an amazing work of drama. Even the rendering on some of the character depictions in this volume resemble the detailed line work seen in Real, but it doesn't make this volume of Slam Dunk any less a joy to read than any other volume. In fact, this is a high point in a manga that is mostly high points.
POSSIBLE AUDIENCE: Sports fans will love Slam Dunk as much as manga readers already do.
A
Last Updated: August 31, 2023 - 08:12