Slam Dunk: Volume 4
By Leroy Douresseaux
June 10, 2009 - 11:19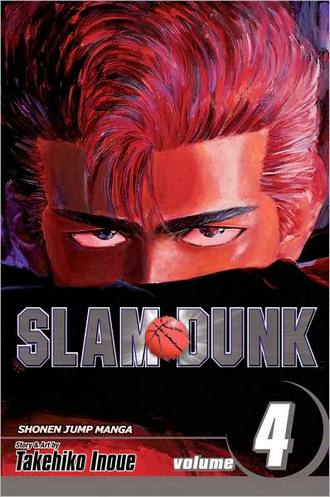 Slam Dunk Volume 4 cover image is courtesy of barnesandnoble.com.
Rated "T" for "Teen"
It takes dedication and discipline to be the best, and the Shohoku Prefecture High School men's basketball team wants to be the best. This is the Captain-Takenori Akagi's last year, and the team knows that it has one last chance to make Akagi's dream of reaching the finals come true. However, the arrival of two first year players, the wild and undisciplined Hanamichi Sakuragi and basketball prodigy Kaede Rukawa, promises to make this an interesting year.
In Slam Dunk, Vol. 4 (Enter the Hero!!), it's tip-off time. The much-anticipated, preseason practice game between Shohoku High and Ryonan High finally gets under way, and it's on, baby! But the rout is also on. Ryonan's dynamic duo of center, Uozumi, and second year star, Sendoh, leads the charge, and Ryonan grabs an early 19-0 lead over Shohoku. Capt. Akagi and Kaede Rukawa, Shohoku's own star duo, suddenly seem like benchwarmers and scrubs. Because his Coach Anzai told him he was Shohoku's "secret weapon," Hanamichi is starting to wonder why he's not on the floor so that he can save the day.
[This volume's "Slam Dunk Overtime" NBA player profile features Portland Trailblazers' center, Greg Oden.]
THE LOWDOWN: Of course comic book readers know it, but manga readers also know that the space in between panels on a comic book page (called the "gutter) is just as important as the panels themselves. It is the reader who imagines what is happening in the gutter between two panels based on the graphic content in those same two panels. So basketball fans who also read manga and comic books will pass out over the delightful basketball manga, Slam Dunk, especially Vol. 4, which offers plenty of opportunity for imagining the action between panels.
Creator Takehiko Inoue's art captures the constant motion and often rapid movement of a basketball game. The contents and composition of each panel are presented in a way that when it is connected to a gutter and another panel gives the reader a sense of an actual ongoing game. Slam Dunk can make the reader appreciate the magic of the static images of comic books.
However, it's not just the action on the court that makes this volume so good. Inoue intersperses the basketball game with scenes from the team benches and in the stands with the crowd, and that offers the reader so many nice character moments, not to mention plenty of comedy. Inoue manages to grab plenty of character based comedy and tension simply by focusing not just on the game action, but also on the thoughts, emotions, and dialogue of the players on the court.
POSSIBLE AUDIENCE: No basketball fan who reads comics, regardless of age, nationality, or gender should be without a copy of Slam Dunk, especially this volume and the upcoming Vol. 9.
A
Last Updated: January 24, 2022 - 11:00