7thGarden: Volume 5 manga review
By Leroy Douresseaux
Aug 13, 2017 - 23:46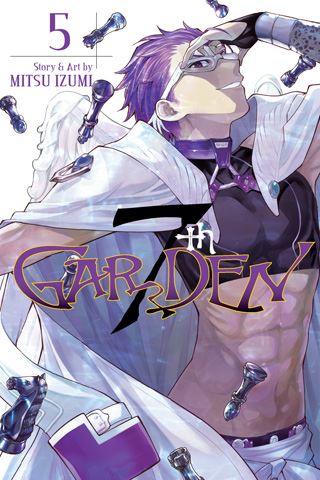 7th Garden Volume 5 cover image
Rated "M" for "Mature"
The Age of A.N. (Annu Nuntius), year 78. This is the time in Exive, one of the seven great continents, in the Holy Braith Kingdom. In the village of Karna, there is a young man. His name is
Awyn Gardner
, and he protects his beautiful mistress,
Mariphiel "Marie" Fiacre
. Awyn lovingly tends the beautiful gardens on her estate, but he is about to discover that there is a demon in the garden.
Vyrde
wants to kill six angels and to dominate the world – with Awyn's help
As
7th Garden

, Vol. 5
(Chapters 17 to 20) opens, Vyrde's rival, the angel Lokihel a.k.a. "
Loki
," arrives in Karna. He possesses a friend of Awyn and makes his move to battle Vyrde, but Awyn is the one who does the fighting. Awyn can't kill his friend, but that possessed friend seems willing to kill him.
THE LOWDOWN:
The 7th Garden manga is a dark fantasy shonen manga that can be an intense and violent battle manga. This is a shonen-shojo historical drama that offers fights and fanservice, and an occasional servings of humor.
7th Garden Volume 5
is a bit of a let down from the previous volume, (Vol. 4), which I think is the best volume of this manga, so far. However, the four chapters contained in this particular graphic novel do mark something of a changing point. I think Vyrde's adversaries will increasingly come to the forefront in this story. I am interested to see where this goes and how it affects the human characters.
I READS YOU RECOMMENDS:
Fans of shonen dark/action fantasy will want to try the Shonen Jump title,
7th Garden
.
B+
7 out of 10
Rating: 7 /10
Support this writer on Patreon
Last Updated: Jun 26, 2018 - 9:28