7thGarden: Volume 3 manga review
By Leroy Douresseaux
Feb 1, 2017 - 15:02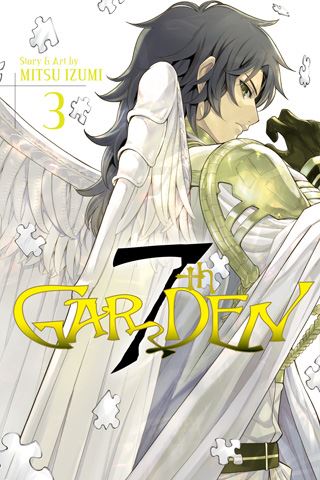 7thGarden Volume 3 cover image
Rated "T+" for "Older Teen"
It is the Age of A.N. (Annu Nuntius), year 78. In
Exive
, one of the seven great continents, in the
Holy Braith Kingdom
, specifically in the village of
Karna
, there is a young man. His name is
Awyn Gardener
, and he protects his beautiful mistress,
Mariphiel "Marie" Fiacre
. Awyn lovingly tends the beautiful gardens on her estate, but he is about to discover that there is a demon in the garden. Vyrde wants to kill six angels and to dominate the world – with Awyn's help
As
7th Garden

, Vol. 3
(Chapters 9 to 12) opens, a young princess is forced to face her dark powers, but she would rather return to a dreamland. Meanwhile, Vyrde adjusts to being part of the Fiacre household, but Marie is jealous of the attention Vyrde gives Awyn. Vyrde has other things upon which to concentrate and crashes a meeting of old friends. Also, the childhood of Awyn Gladiolus is revealed, as is the past of the country.
[This volume includes bonus manga, "Epilogue: The Princess."]
THE LOWDOWN:
The 7th Garden manga is a dark fantasy shonen manga that is still filled with beautifully-drawn art. It is in the vein of shonen fantasy series,
Rosario+Vampire
, which also has moments of shojo drama. This is a shonen-shojo historical drama blend with shonen action, violence, and innuendo.
The best of
7th Garden Volume 3
concerns domestic drama and history. I enjoy the scenes depicting life in the household of
Karnecie Fiacre
, Marie's father, especially because creator
Mitzu Izumi
enjoys contrasting Vyrde's mission with life at a simple country estate. Secondly, the history of Awyn is quite intriguing, involving the rumblings of war and a mysterious serial killer. I still see the possibilities of 7th Garden, and it is starting to hit its stride.
I READS YOU RECOMMENDS:
Fans of shonen dark/action fantasy will want to try
7th Garden
.
B+
Rating: B+ /10
Support this writer on Patreon
Last Updated: Jun 26, 2018 - 9:28