7thGarden: Volume 4 manga review
By Leroy Douresseaux
Apr 27, 2017 - 11:37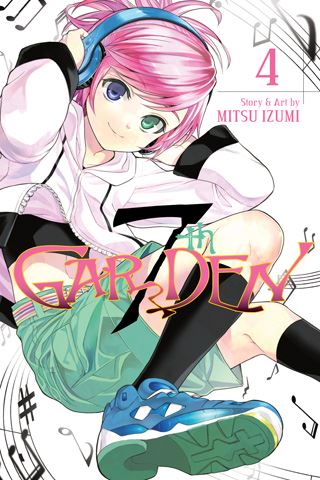 7thGarden Volume 4 cover image
Rated "T+" for "Older Teen"
The time is the Age of A.N. (Annu Nuntius), year 78. In Exive, one of the seven great continents, in the Holy Braith Kingdom, specifically in the village of Karna, there is a young man. His name is
Awyn Gardner
, and he protects his beautiful mistress,
Mariphiel "Marie" Fiacre
. Awyn lovingly tends the beautiful gardens on her estate, but he is about to discover that there is a demon in the garden. Vyrde wants to kill six angels and to dominate the world – with Awyn's help
As
7th Garden

, Vol. 4
(Chapters 13 to 16) opens, the origin story of Awyn continues with the tale of his father's unjust death, Awyn's banishment and isolation, and how he became "
the Demon's child
." We also learn how Awyn met Marie and how he went from being Awyn Gladiolus to Awyn Gardner.
THE LOWDOWN:
The 7th Garden manga is a dark fantasy shonen manga that gets better with each volume. It is not only filled with beautifully-drawn art, but also with playful fanservice. This is a shonen-shojo historical drama blend with shonen action, violence, and innuendo.
Pardon me, dear reader, for calling
7th Garden Volume 4
the best volume so far. I am a fanboy for manga flashbacks, back stories, and origin stories, and Vol. 4 is so good at that. Creator
Mitzu Izumi
's eye-candy art and the comedy, drama, and pathos of Awyn's history and the story of the first meeting of Awyn and Marie is a feast of good reading. And we are still in the early stages of this narrative, and it is not too late to get on board.
I READS YOU RECOMMENDS:
Fans of shonen dark/action fantasy will want to try
7th Garden
.
A
Rating: A /10
Support this writer on Patreon
Last Updated: Jun 26, 2018 - 9:28