7thGarden: Volume 2 manga review
By Leroy Douresseaux
Oct 22, 2016 - 19:44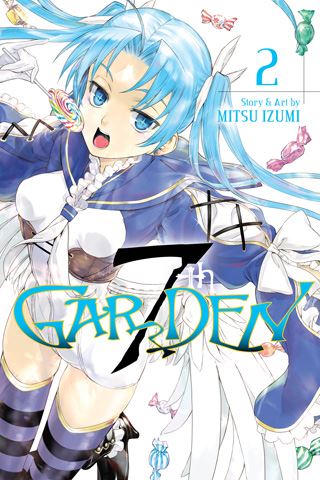 7thGarden Volume 2 cover image
Rated "T+" for "Older Teen"
It is the Age of A.N. (Annu Nuntius), year 78. In Exive, one of the seven great continents, in the
Holy Braith Kingdom
, specifically in the village of Karna, there is a young man. His name is
Awyn Gardener
, and he protects his beautiful mistress,
Mariphiel "Marie" Fiacre
. Awyn lovingly tends the beautiful gardens on her estate, but he is about to discover that there is a demon in the garden.
Vyrde
wants to kill six angels and to dominate the world – with Awyn's help
As
7th Garden

, Vol. 2
(Chapters 5 to 8) opens, Vyrde and Awyn, puffed up with the power she has given him, barely survive their battle against the powerful angel,
Vul
. Later, Awyn learns a little important information from a boy named Iola, who has a surprising connection to Vyrde. Next, demon and gardener head to
Irreign
, the country south of Braith. It is embroiled in regicide, and the duo are about to get caught in the struggles of a young princess.
THE LOWDOWN:
The
7th Garden
manga is a dark fantasy shonen manga fulled with beautifully-drawn art. It is in the vein of shonen fantasy series,
Rosario+Vampire
, which also has moments of shojo drama.
I find
7th Garden Volume 2
to be more enjoyable than the first volume. For one thing, much of the narrative is about conflict a.k.a. battle manga, so a little something for the fight fans. In the chapters herein, creator
Mitsu Izumi
is also clearer about the combatants and antagonists, including on what Vyrde wants. This makes the story a bit more solid, and because Vyrde puts the first notch on her belt, this series now seems to be going somewhere. I still see the possibilities of
7th Garden
, but I don't know when this series will hit its stride.
POSSIBLE AUDIENCE:
Fans of shonen dark/action fantasy will want to try
7th Garden
.
B+
Rating: B+ /10
Support this writer on Patreon
Last Updated: Jun 26, 2018 - 9:28