Pluto: Urasawa x Tezuka: Volume 8
By Leroy Douresseaux
April 6, 2010 - 12:52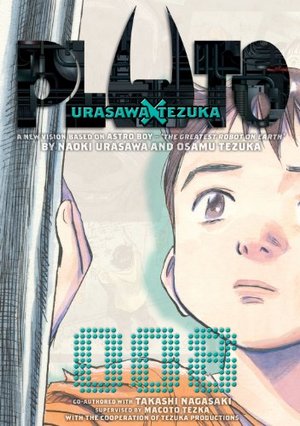 Pluto Urasawa x Tezuka Volume 8 cover image
Rated "T+" for "Older Teen"
Pluto: Urasawa × Tezuka is a conspiracy science fiction manga created by Naoki Urasawa. It is also a reworking of "The Greatest Robot on Earth," the most famous story arc of another manga series, Astro Boy (Tetsuwan Atom), the creation of the revered Osamu Tezuka, the manga artist and animator who is considered to be the "Godfather of Anime."
Pluto: Urasawa × Tezuka focuses on a supporting character from the original story, a very human-like, German robot detective named Gesicht and it features an intriguing premise. Gesicht is investigating a series of murders in which someone or something is destroying the world's seven most powerful and advanced robots. Gesicht, who is one of these seven great robots, eventually discovers that the killer is also robot, a monstrosity named Pluto, but Pluto is only one part of rather simple, but far-reaching revenge plot.
Pluto: Urasawa × Tezuka, Vol. 8 collects Acts 56 to the Final Act of the story. King Darius XIV's big payback is a bomb dropped on an unsuspecting mankind. The Professor Tenma-to-Abullah six degrees of separation is revealed. Atom is back and is on the warpath for Pluto, but will Atom let hate get the better of him? And the mastermind of and reason for the 39th Central Asia War is revealed.
THE LOWDOWN: Well, it's here, the end of Pluto, and it is too soon for me. I was surprised to learn that Vol. 8 would be the end. When it comes to manga by Naoki Urasawa, I don't anticipate final volumes; I dread them because I don't want those wonderful stories to end. As the bodies dropped (both human and robot), I wondered if Urasawa was writing himself into a corner with Pluto, but the series ends with a spirit of renewed hope about the world, while remaining profound. I wonder if because he began it in 2003, if Urasawa intended Pluto not only as an honor to Osamu Tezuka, but also as a commentary on the invasion of and subsequent war in Iraq. With subtlety and grace, Urasawa condemns the United States and its allies who perpetrated this crime. Or maybe I'm reading too much into it the way the Bush/Cheney cabal made too much of faulty intelligence.
Anyway… I maintain that Urasawa's greatest talent as a storyteller is his ability to engage the readers in a way that keeps them coming back again and again. This is such a good story that you will chase the next chapter of this excellent and smart potboiler, and now it is over, but let the chase began anew. This gorgeously drawn and superbly constructed comic will entertain you and also make you realize how great comic books can be, even if you thought you already knew that.
POSSIBLE AUDIENCE: Comic book readers looking for excellence will find it in Pluto: Urasawa × Tezuka, now and forever.
A+
Last Updated: August 31, 2023 - 08:12