Pluto: Urasawa x Tezuka: Volume 7
By Leroy Douresseaux
March 10, 2010 - 15:10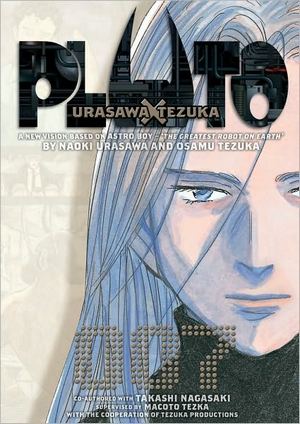 Pluto: Urasawa x Tezuka Volume 7 cover image is courtesy of barnesandnoble.com.
Rated "T+" for "Older Teen"
Pluto: Urasawa × Tezuka is a science fiction and conspiracy manga from Naoki Urasawa. It is also a reworking of "The Greatest Robot on Earth," the most famous story arc of the late Osamu Tezuka's beloved manga, Tetsuwan Atom (Astro Boy). Pluto: Urasawa × Tezuka focuses on a supporting character from the original story, a very human-like, German robot detective named Gesicht.
Gesicht is investigating a series of murders in which someone or something is targeting the world's seven most powerful and advanced robots for destruction. Gesicht, one of the seven, eventually discovers that the killer is a robot named Pluto.
Pluto: Urasawa × Tezuka, Vol. 7 (collecting Acts 48-55 of the story) opens with the aftermath of Gesicht's death, which the world believes happened at the hands of Pluto. The narrative peers into the past relationship between Abdullah and Dr. Tenma, Atom's father. Also, Pluto's motives and the identity of the mastermind are made clearer. Or are they? Meanwhile, Epsilon, the last great robot and wielder of limitless photon energy, just may be Pluto's greatest opponent of all. Plus, Atom's sister Uran senses the great emotional turmoil involved in these battles, and she wants to say goodbye to Atom.
THE LOWDOWN: While Pluto: Urasawa × Tezuka has been an excellent read from the opening chapter, Volumes 7 and 6 have offered the most riveting action. I think I made myself dizzy turning the pages so quickly, but my hands could not keep up with how fast I was reading. It can't be helped. Urasawa is a GREAT comic book creator. He is superb at character and plot, and he can take a standard science fiction setting and make it seem like a whole new world.
POSSIBLE AUDIENCE: Comic book readers looking for excellence will find it in Pluto: Urasawa × Tezuka.
A+
Last Updated: August 31, 2023 - 08:12