Pluto: Urasawa x Tezuka: Volume 5
By Leroy Douresseaux
September 14, 2009 - 11:21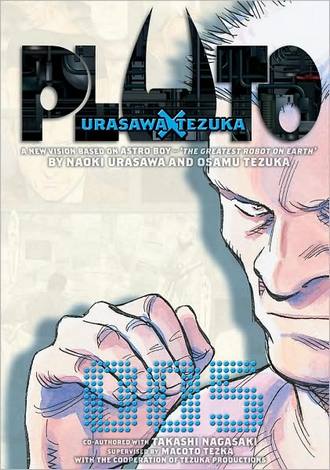 Pluto Urasawa x Tezuka Volume 5 cover image is courtesy of barnesandnoble.com.
Rated "T+" for "Older Teen"
Pluto: Urasawa × Tezuka is a science fiction and conspiracy manga from Naoki Urasawa. It is also a reworking of "The Greatest Robot on Earth," the most famous story arc of the late Osamu Tezuka's beloved manga, Tetsuwan Atom (Astro Boy). Pluto: Urasawa × Tezuka focuses on a supporting character from the original story, a very human-like, German robot detective named Gesicht. Gesicht investigates a series of murders in which someone or something is targeting the world's seven most powerful and advanced robots (of which Gesicht is one) for destruction.
In Pluto: Urasawa × Tezuka, Vol. 5 (collecting Acts 32-39 of the story), the details of the deadly confrontation between Gesicht and Adolf Haas' brother are finally revealed. Meanwhile, Gesicht continues his assignment protecting Haas and his wife and son, but someone is trying to get Haas to kill Gesicht. The vengeful Haas is only too happy to oblige, but will the anti-robot group, KR, kill both of them first.
Hercules, one of the 7 great robots, takes on the presumed robot killer, Pluto, while another great robot, Epsilon, watches. Finally, Atom's creator, Professor Tenma, arrives with earth-shattering revelations.
THE LOWDOWN: How does Naoki Urasawa do it? Do what? Keep the Pluto pot on a high boil! Pluto: Urasawa × Tezuka is a serial science fiction mystery drama that is broken into numerous chapters. As the story advances, the reader realizes how intricately connected everything and every character are, but there's more – always more. More subplots and new characters, as well as the appearances of character previously only mentioned, materialize. It's the reading experience that keeps on giving.
POSSIBLE AUDIENCE: Comic book readers looking for excellence will find it in Pluto: Urasawa × Tezuka.
A+
Last Updated: January 24, 2022 - 11:00