Pluto: Urasawa x Tezuka: Volume 2
By Leroy Douresseaux
March 13, 2009 - 13:34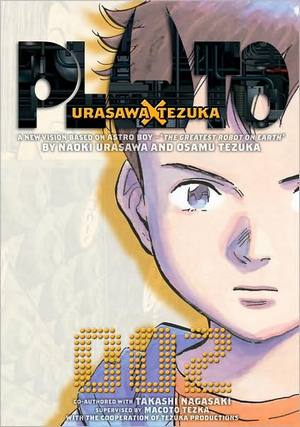 Pluto: Urasawa x Tezuka 2 cover image is courtesy of barnesandnoble.com.
Rated "T+" for "Older Teen"
The manga series Pluto: Urasawa × Tezuka weds the creative vision of Naoki Urasawa (Monster, 20th Century Boys) and the late Osamu Tezuka, the "God of Manga." Urasawa based Pluto on, "The Greatest Robot on Earth," the most famous story arc of Tezuka's beloved manga, Tetsuwan Atom (Astro Boy). Pluto focuses on a supporting character from the original story, a very human-like, German robot detective named Gesicht.
Pluto: Urasawa × Tezuka, Vol. 2 (collecting Acts 8-15 of the story) opens with the murder of a second human involved in robot law. Europol Robot Detective Gesicht has a theory that someone is targeting the world's seven most powerful and advanced robots (which includes himself) for destruction. Inspector Gesicht has begun informing the other six robots of his theory, warning them to be on their guard. His visits include a meeting with the beloved Japanese boy robot, Atom, a very perceptive, almost human-like robot, who assists Gesicht in the investigation. The murders may be connected to the brutal 39th Central Asia War, and one of its participants, the great robot, Brando of Turkey, has decided to take the fight to their hunter.
THE LOWDOWN: While it is a mystery and psychological thriller in the vein of another Urasawa manga, Monster, Pluto: Urasawa × Tezuka is more intimate than Monster. Whereas, Monster's conspiracy was wide-ranging, Pluto is somewhat like a classical mystery story in the tradition of Agatha Christie; in a sense, the world is the locked room of this locked room murder. Pluto's central mystery seems to be closing in on itself, relegating the clues and characters to a select few (while Monster's mystery seemed to devour an ever growing cast of characters and even challenged time and space). One of the joys of future volumes will also be to discover if the 39th Central Asia War is a metaphor for the second Iraq War, and what the manga-ka has to say about it.
POSSIBLE AUDIENCE: Comic book readers looking for a challenging, engaging, rich, murder mystery like Alan Moore and Dave Gibbons' Watchmen will find it in Pluto: Urasawa × Tezuka.
A
Last Updated: January 24, 2022 - 11:00