One Piece: Volume 68 manga review
By Leroy Douresseaux
September 17, 2013 - 17:36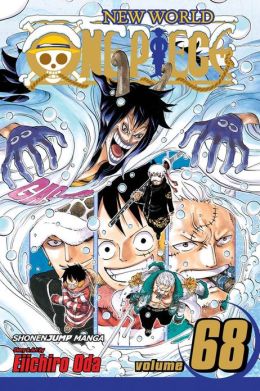 One Piece Volume 68 cover image is courtesy of barnesandnoble.com.
Rated "T" for Teen
As a child, Monkey D. Luffy ate the enchanted "Devil Fruit." The fruit gave him the ability to stretch like rubber, but took away his ability to swim. Undeterred, Luffy set out to sea and became known as "Straw Hat" (because of his straw hat). Luffy gradually enlisted a motley crew and they all became known as the "Straw Hat pirates." The Straw Hats sail the oceans aboard their ship, the Sunny, searching for the legendary treasure known as "One Piece."
After two years of training, the Straw Hat crew reunite and sale for the New World via Fish-Man Island (where they have a great adventure). As One Piece, Vol. 68 (entitled Pirate Alliance; Chapters 668 to 678) opens, the Straw Hats are still on Punk Hazard, a mysterious island that is half-covered in fire and half in ice. The island is a former government laboratory where a terrible experiment took place. Now, it is ruled by the mad and vile scientist, Caesar Clown.
The Straw Hats learn that the Navy, specifically Naval G-5 (5th Branch of the Naval Grand Line), has tracked them to Punk Hazard. Close behind in pursuit is newly-minted Warlord of the Sea, Trafalgar Law, who also wields devil fruit powers. Now, Luffy is making a deal with Law to join forces in a bid to stop Caesar Clown's diabolical plans.
But first, G-5 Vice Admiral White Class Smoker and G-5 Captain Tashigi attack the Straw Hats. Vergo enters the game. Some of the Straw Hats are still trying to reunite the scattered body parts of Foxfire Kin'emon, the Samurai of Wano. And what is the Land of the Dead?
THE LOWDOWN: The reliable craziness of the One Piece manga continues. One Piece Volume 68 is in the midst of its storyline New World, of which this is Part 8. In earlier reviews of the Punk Hazard chapters, I have written that this adventure seemed like it was going to be especially fun. It truly is. As much as I've enjoyed One Piece over the years, I think this Vol. 68 is the most fun that I have had reading an individual volume in at least the last several volumes.
Vol. 68 is simply funny. As usual, the chapters contained in this volume are filled with sight gags and other humorous graphics, but here, creator Eiichiro Oda adds dialogue that sends the humor in specific directions. There is some innuendo, but also quite a bit of satire that puts the government and the military on par with criminal organization and pirates. I'm really looking forward to Vol. 69.
POSSIBLE AUDIENCE: Readers looking for the best of all-ages shonen adventure-fantasy manga will find it in the Shonen Jump title, One Piece.
Rating: A+ /10
Last Updated: August 31, 2023 - 08:12