One Piece: Volume 81 manga review
By Leroy Douresseaux
June 4, 2017 - 21:16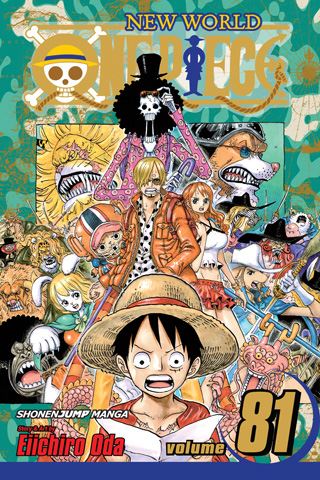 One Piece Volume 81 cover image
Rated "T" for "Teen"
Monkey D. Luffy
ate the enchanted "Devil Fruit" and gained the ability to stretch like rubber, but lost the ability to swim. Undeterred, Luffy set out to sea and, in time, became known as "
Straw Hat
" (because of his straw hat). Gradually, he enlisted a motley crew, and Luffy and company became known as the "Straw Hat pirates."
The Straw Hats
sail the high seas aboard their ship, the
Thousand Sunny
, searching for the legendary treasure known as "One Piece." And Luffy still wants to be the "King of the Pirates"
The Straw Hats and their erstwhile ally, Trafalgar Law (one of the Seven Warlords of the Sea), defeated Don Quixote Doflamingo a/k/a Joker, freeing the island of Dressrosa from his clutches. Then, the Straw Hats separated into two groups...
As
One Piece

, Vol. 81
(entitled
Let's Go See the Cat Viper
; Chapters 807 to 816) opens, Luffy and company reunite with Nami's group:
Nami
,
Chopper
,
Brook
,
Momo
, and
Sanji
, on
Zou
, a kingdom on the back of a giant elephant. But wait... Sanji is missing. Now, Nami has an epic tale that explains the destruction of Zou. That story involves the
Animal Kingdom Pirates
, the
Big Mom Pirates
,
Duke Dogstorm
,
Cat Viper
, and the
Minks
. Oh, and Sanji has to get married!
THE LOWDOWN:
I had not read the One Piece manga in over a year – not since Vol. 78. One Piece has been rolling through the New World story line and beginning with the "Punk Hazard" section of it, One Piece has been at its best. That does not stop here.
One Piece Volume 81
is one of my favorite volumes. I like the back story about the kingdom of Zou, but the treat here is all of the subplots and plot elements that surround Sanji. Yeah, I am still impressed by the imagination of One Piece creator
Eiichiro Oda
. Now, I think his true strength may be in creating the threads around the Straw Hats. For all the crazy places the crew goes and the strange people, animals, creatures, and things, the group meets, the crew is the treasure when it comes to story.
I READS YOU RECOMMENDS:
Readers looking for the ultimate pirate manga/comic book will find it in the Shonen Jump title,
One Piece
.
A
Rating: A /10
Last Updated: August 31, 2023 - 08:12