One Piece: Volume 76 manga review
By Leroy Douresseaux
November 27, 2015 - 18:56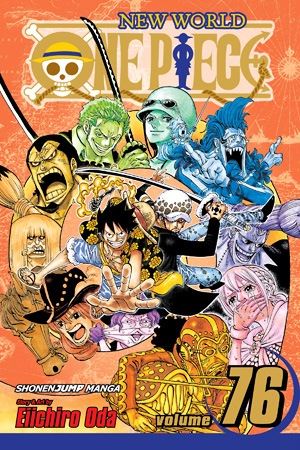 One Piece Volume 76 cover image
Rated "T" for "Teen"
Monkey D. Luffy
ate the enchanted "
Devil Fruit
," which gave him the ability to stretch like rubber, but took away his ability to swim. Undeterred, Luffy set out to sea and, in time, became known as "
Straw Hat
" (because of his straw hat). Gradually, he enlisted a motley crew, and Luffy and company became known as the "Straw Hat pirates." The
Straw Hats
sail the high seas aboard their ship, the Thousand Sunny, searching for the legendary treasure known as "One Piece." And Luffy still wants to be the "King of the Pirates"
The Straw Hats and their ally,
Trafalgar Law
(one of the Seven Warlords of the Sea), force a deal with
Don Quixote Doflamingo
a/k/a Joker. The Straw Hats and Trafalgar Law arrive on the island of
Dressrosa
, which, until recently, had been Doflamingo's kingdom. However, he has set a trap for his enemies, and despite misinformation, Dressrosa is actually still Doflamingo's kingdom.
As
One Piece

, Vol. 76
(entitled
Just Keep Going
; Chapters 753 to 763) opens, Luffy and Trafalgar Law continue to lead their allies up
The New Royal Plateau
. Currently on the second step of the plateau, their goal is the top because that is where they will find Doflamingo. At the same time,
Zolo
and
Pica
battle atop the
Pica Statue
. Also, the Tontatta's lead a revolt in Doflamingo's
Smile
factory.
Plus, we learn the bitter history of Doflamingo. We learn the tragic history of Law and White Town. The story of how Doflamingo and Law were once united begins.
THE LOWDOWN:
Since the adventures on the island of "Punk Hazard," the
One Piece
manga has been in the midst of what is probably the series' best run. Speaking of running, Part 16 of the New World story arc keeps the characters in a full gallop. There must be something like five pitched battles occurring; it's an ebb and flow of battle manga battles.
However, fighting is not what made me enjoy
One Piece Volume 76
. I love backstory, and the separate and combined histories of Trafalgar Law and Don Quixote Doflamingo are both poignant and wacky. Yeah, poignant and wacky as only One Piece creator
Eiichiro Oda
can mix poignant and wacky. Because those histories continue into the next volume, it makes Vol. 77 a must-have.
POSSIBLE AUDIENCE:
Readers looking for the ultimate pirate manga/comic book will find it in the Shonen Jump title,
One Piece
.
Rating: A- /10
Last Updated: August 31, 2023 - 08:12