One Piece: Volume 77 manga review
By Leroy Douresseaux
February 9, 2016 - 20:05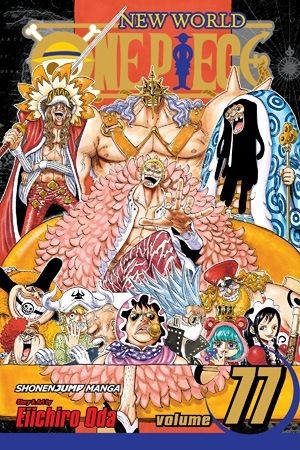 One Piece Volume 77 cover image
Rated "T" for "Teen"
After young
Monkey D. Luffy
ate the enchanted "
Devil Fruit
," he gained the ability to stretch like rubber, but lost the ability to swim. Undeterred, Luffy set out to sea and, in time, became known as "Straw Hat" (because of his straw hat). Gradually, he enlisted a motley crew, and Luffy and company became known as the "Straw Hat pirates." The
Straw Hats
sail the high seas aboard their ship, the Thousand Sunny, searching for the legendary treasure known as "One Piece." And Luffy still wants to be the "King of the Pirates"
The Straw Hats and their erstwhile ally,
Trafalgar Law
(one of the Seven Warlords of the Sea), force a deal with
Don Quixote Doflamingo
a/k/a Joker. The Straw Hats and Trafalgar Law arrive on the island of
Dressrosa
, which, until recently, had been Doflamingo's kingdom. However, he has set a trap for his enemies, and despite misinformation, Dressrosa is still Doflamingo's kingdom.
One Piece

, Vol. 77
(entitled
Smile
; Chapters 764 to 775) begins with several chapters of history. The relationship between Trafalgar Law and
Corazan
, Doflamingo's brother, is revealed. Law was a survivor of Flevance, where the mining of White Lead gave the citizens "
White Lead Disease
." In the end, Law, a child at the time, was the sole survivor of Flevance, but he was an outcast because people feared that White Lead Disease was contagious.
Corazon was determined to find a cure for Law, but he needed the Devil Fruit known as "
The Op-Op Fruit
" to cure Law. The fruit's god-like healing abilities are also sought by Doflamingo, so Corazon has a plan to get the fruit first and to use it to trap his brother. But is Doflamingo too smart for traps? Meanwhile, back in the present, the Straw Hats take on Doflamingo's powerful flunkies, including a match pitting Luffy against
Bellamy the Hyena
.
THE LOWDOWN:
The
One Piece
manga has been on a roll since the beginning of the "Punk Hazard" story arc, and the "Dressrosa" arc leaves no doubt that this series is in the midst of what is its best run. As have other installments, Part 17 of the New World story arc keeps the characters at a full gallop, and now, I have lost count of the pitched battles in progress.
One Piece Volume 77
offers something that I really love about this series, flashbacks and character histories. Even
Señor Pink
gets a personal story recap in the midst of his battle with Straw Hat,
Franky
. As I said in my review of Vol. 76, I love back story, and no matter how chaotic the battles get,
One Piece
creator
Eiichiro Oda
always manages to tell a his or her story.
POSSIBLE AUDIENCE:
Readers looking for the ultimate pirate manga/comic book will find it in the Shonen Jump title,
One Piece.
Rating: A- /10
Last Updated: January 24, 2022 - 11:00