One Piece: Volume 82 manga review
By Leroy Douresseaux
October 25, 2018 - 23:26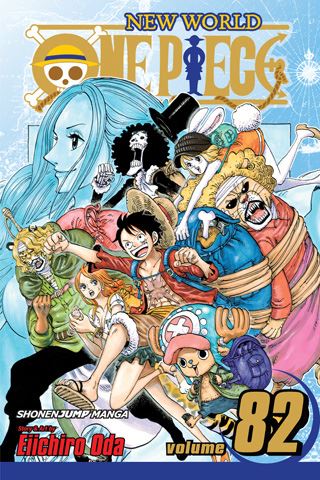 One Piece Volume 82 cover image
Rated "T" for "Teen"
Monkey D. Luffy
ate the enchanted "
Devil Fruit
" and gained the ability to stretch like rubber, but lost the ability to swim. Undeterred, Luffy set out to sea and, in time, became known as "
Straw Hat
" (because of his straw hat). Gradually, he enlisted a motley crew, and Luffy and company became known as the "
Straw Hat pirates
." The Straw Hats sail the high seas aboard their ship, the
Thousand Sunny
, searching for the legendary treasure known as "One Piece." And Luffy still wants to be the "King of the Pirates"
As
One Piece

, Vol. 82
(entitled
The World is Restless
; Chapters 817 to 827) opens, Luffy and company learn the secret of
Foxfire Kin'emon
,
Evening Shower Kanjuro
, and
Lozuki Momonosuke
– with one of them being a royal. And why are the Minks so loyal to the mysterious "Ninja of
Wano
,"
Raizo of the Mist
? Later, Luffy takes a group to rescue "Straw Hat" pirate,
Sanji
, from a forced marriage, and they are soon meeting members of Sanji's family.
THE LOWDOWN:
The One Piece manga rolls on with new characters, places, plots, and concepts. Creator Eiichiro Oda continues to roll our favorite comic book pirates through the long New World story arc.
One Piece Graphic Novel Volume 82
is the first volume of the series that I have read in about 16 months, but I still find myself drawn into the craziness Oda has the heroes dividing into four groups, each with a mission, and my summary of the plot of Vol. 82 does not come close to accurately describing everything that his happening in this section of the narrative. But as always, One Piece remains a one of the most imaginative manga we have.
I READS YOU RECOMMENDS:
Readers looking for the ultimate pirate manga/comic book will find it in the Shonen Jump title,
One Piece
.
A
8 out of 10
Last Updated: August 31, 2023 - 08:12