One Piece: Volume 59
By Leroy Douresseaux
November 29, 2011 - 10:01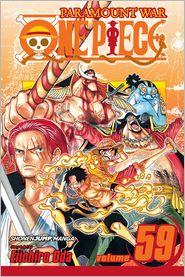 One Piece Volume 59 cover image.
Rated "T" for Teen
Since he was a small child, Monkey D. Luffy has dreamed of becoming King of the Pirates. He ate the enchanted "Devil Fruit," which gave him the ability to stretch like rubber, but took away his ability to swim. Undeterred, Luffy set out to sea, gradually enlisting a motley crew known as the "Straw Hats" (as Luffy is often called "Straw Hat" because he wears a straw hat). Luffy and his crew sail the oceans, searching for the legendary treasure known as "One Piece."
One Piece, Vol. 59 (entitled The Death of Portgaz D. Ace) sees the end of the Paramount War and the death of Luffy's brother, Portgaz D. Ace. Now, some of the combatants race to leave Marineford Navy Headquarters, as a new era dawns. Can Luffy's friends escape with him before he ends up like his brother? Also, a flashback series looking into Luffy and Ace's past together begins. And yes, One Piece is real.
THE LOWDOWN: For the past few years, One Piece has been the same old story. It was outrageous and imaginative and filled with more inventively designed and conceived characters than most shonen manga. Vol. 59, however, is something different. It is an ending, as many of the old storylines and subplots end in the fiery maelstrom that is the conclusion of the Paramount War. Revelations abound, and a villain declares a new era. And if readers needed to be reminded – One Piece is real.
This volume is also a beginning, as the series prepares for a reunion of the Straw Hats. Because of the flashback to Luffy's past, this is also a good jump-on point for new readers.
POSSIBLE AUDIENCE: Readers looking for one of the great shonen action manga will find it in One Piece.
A-
Last Updated: August 31, 2023 - 08:12