One Piece: Volume 25
By Leroy Douresseaux
December 31, 2009 - 08:13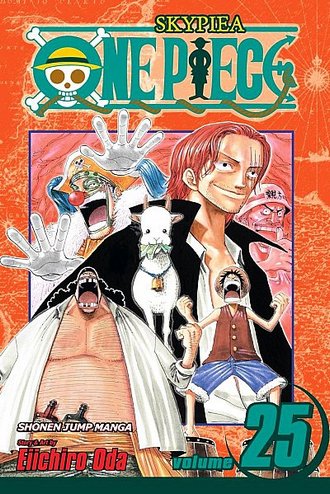 One Piece Volume 25 cover image is courtesy of powells.com
Rated "T" for Teen
As a child listening to the stories of the pirate, "Red-Haired" Shanks, Monkey D. Luffy dreamed of becoming not just any pirate, but the King of Pirates. Then, the enchanted "Devil Fruit" gave Luffy the ability to stretch like rubber, while taking away his ability to swim. Undeterred, he set out to sea and enlisted a motley crew for his pirate ship, Merry Go. There's Zolo the master swordsman, Nami the treasure-hunting thief, Usopp, the lying sharpshooter, Sanji the high-kicking chef, Chopper the walkin' talkin' reindeer doctor, and now, the mysterious woman, Nico Robin. Together, they search for the legendary treasure, One Piece.
As One Piece, Vol. 25 (entitled The 100 Million Berry Man) opens, Luffy and crew arrive on the eastern shores of the island of Jaya. There, they encounter the eccentric Mont Blanc Cricket, who can tell them how to reach the legendary Sky Island. Cricket is, however, on his own quest to find a legendary place, the search for which has caused his family misery unending for generations.
Meanwhile, the actions of Luffy and crew in the kingdom of Albasta (their defeat of Sir Crocodile and the restoration of peace in the kingdom) have not gone unnoticed. Such powerful entities as the Five Elders – Supreme Leaders of the World Government – and the Seven Warlords of the Sea have their eyes on Luffy, who has a steep price on his head – 100 Million berries.
THE LOWDOWN: Starting in January 2010, VIZ Media is going to accelerate the publication of One Piece, with five new volumes published each month into June 2010. In fact five volumes (24-28) will be published January 5th. This is similar to what VIZ did with Naruto in 2009, and like Naruto, One Piece is a shonen manga (comics for teen boys) on the way to being even bigger.
One Piece is always determined to give its readers more than their money's worth. Each chapter offers more than one storyline, so each volume is chock full of storylines and subplots. Strange, eccentric characters are always plotting against even weirder adversaries, and when animals enter the story, they only up bizarre quotient. One Piece takes place in a colorful world full of fantastic locales and readers will want to follow Luffy and company to those places.
POSSIBLE AUDIENCE: Fans of Shonen Jump magazine will want One Piece.
A-
Last Updated: August 31, 2023 - 08:12