"New People Travel" Has Yoshitaka Amano
By The Editor
February 19, 2013 - 17:11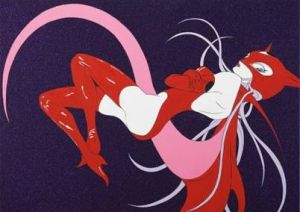 Deva Loke, an image by Yoshitaka Amano
NEW PEOPLE TRAVEL POSTS LATEST EDITION FEATURING AN INTERVIEW WITH ICONIC JAPANESE POP CULTURE ARTIST YOSHITAKA AMANO
New Edition Features The Latest Installment Of An Ongoing Multi-Part Interview With Famed Final Fantasy Character Designer Yoshitaka Amano
NEW PEOPLE, Inc, a San Francisco-based entertainment company bringing the latest examples of Japanese popular culture to North American shores, has just posted its latest edition of NEW PEOPLE Travel, an intriguing free Japanese pop culture web magazine. Readers are invited to catch the latest installment of an ongoing multi-segment interview with famed anime creator, character designer, and pop culture artist Yoskitaka Amano. The interview is available now at: www.newpeople.jp/travel/eng/amano.html.
NEW PEOPLE Travel is a unique web magazine that introduces Western audiences to a variety of Japanese creators that work across borders and the diverse scenery of Japan and journeys they have experienced. It provides an opportunity to see Japan through the eyes of artistic visionaries recognized around the world.
In the latest exclusive NEW PEOPLE Travel interview segment, Yoshitaka Amano sheds light on his highly evolved creative process and how he conceives his designs. He interestingly cites diverse visual cues ranging from the world heritage site of the Kumano Shrine in Japan to the jewelry of Cartier to the intricate costumes of kabuki performers as memorable influences that he has incorporated into his work.
In two previous NEW PEOPLE Travel interview installments with Yoshitaka Amano, the artist discussed his unabashed love for U.S. pop culture and concepts of Western fantasy. He went on to trace how he blends these motifs with traditional Japanese motifs and how concepts based on both Western and Asian mythology often permeate his work.
"Yoshitaka Amano personifies the essence of Japanese pop culture, drawing his influences from both modern and traditional influences, and his work has become internationally recognized for its striking visual power," says Seiji Horibuchi, the founder of NEW PEOPLE, Inc. "These interviews are a rare opportunity for readers to gain insights into what moves and influences this icon of the pop art world. Don't miss the new installment that just posted on New People Travel!"
Yoshitaka Amano was born on March 26, 1952 in Shizuoka, Japan and famously became a character designer at Tatsunoko Productions beginning at age 15 until going independent in 1982. In 1987, he worked on the concept designs for the Final Fantasy video game and gained a massive international following. He also collaborated with other artists and writers on several theater set designs and illustrations for novels. Around 1995, Amano began to do lithograph work and held solo exhibitions in 1997 and 1999 New York. Since 2002, he has gone on to exhibit in London, Paris, France, Germany, and Hong Kong. In 2009, his DEVA LOKA USA exhibition opened at NEW PEOPLE in San Francisco, California and displayed a never before seen colorful vividness and boldness captivating viewers with a daring depiction of the moment of creation, pulling out the definite presence of the infinite power of life. Amano's latest work— DEVA ZAN – is now available through Dark Horse.
NEW PEOPLE Travel is now available at: www.newpeople.jp (select ENGLISH from the menu bar), or at: www.newpeople.jp/travel/eng/index.html.
More information on NEW PEOPLE is available at www.newpeopleworld.com.
About NEW PEOPLE, Inc.
Based in San Francisco, California, NEW PEOPLE, Inc. (www.newpeopleworld.com) offers the latest films, art, fashion and retail brands from Japan through its unique entertainment destination as well as through licensing and distribution of selective Japanese films as well as various forms of entertainment. NEW PEOPLE Entertainment (www.newpeopleent.com), a film division of NEW PEOPLE, Inc. strives to offer the most entertaining motion pictures straight from the "Kingdom of Pop" for audiences of all ages, especially the manga and anime generation, in North America. Some titles include DEATH NOTE, GANTZ, KAMIKAZE GIRLS, and THE TASTE OF TEA.
Last Updated: September 6, 2021 - 08:15