New People Interviews Mamoru Hosoda
By The Editor
November 7, 2012 - 12:25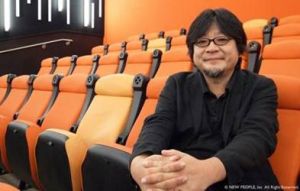 Photographic image of Mamoru Hosoda
NEW PEOPLE TRAVEL POSTS NEW INTERVIEW WITH FAMED ANIME DIRECTOR MAMORU HOSODA AS LATEST ADDITION TO ONLINE JAPANESE TRAVELOGUE SITE
Site Is Updated Every Monday With Personal Stories By An Eclectic Collection Of Japanese Artists And Creative Visionaries; Latest Edition Features Exclusive Interview With Wolf Children / Summer Wars Director Mamoru Hosoda
NEW PEOPLE, Inc, a San Francisco-based entertainment company bringing the latest examples of Japanese popular culture to North American shores, continues to attract readers worldwide to NEW PEOPLE Travel, an intriguing free online travelogue recently launched by the company that offers a look at colorful new sides of Japan, seen through the eyes of an eclectic collection of internationally acclaimed artists and creative visionaries. NEW PEOPLE Travel is updated every Monday.
The latest edition features an exclusive interview with renowned anime director, Mamoru Hosoda, whose work notably includes Wolf Children, a feature film drama about a young woman raising the hybrid human/wolf children of a werewolf, as well as the critically acclaimed films, The Girl Who Leapt Through Time and Summer Wars. In the interview, Hosoda talks about his inspirations and love of anime, and several locations in Japan which inspired him to create his films.
Readers are invited to visit the site and also catch a special article by famed anime director Mamoru Oshii (Ghost in the Shell, Ghost in the Shell 2: Innocence, Sky Crawlers), another highly respected and renowned Japanese film directors.
NEW PEOPLE Travel is now available at: www.newpeople.jp (select ENGLISH from the menu bar), or at: www.newpeople.jp/travel/eng/index.html. The site also welcomes reader's requests regarding future stories as well as reactions to current articles. Send requests and comments to info@newpeopleworld.com.
Future NEW PEOPLE Travel stories will include interviews with Dice Tsutsumi (Art Director at Pixar, Toy Story 3), Katsuhito Ishii (Director, Redline, The Taste of Tea, Funky Forest), and Yoshitaka Amano (Artist, Final Fantasy, Gatchaman, Vampire Hunter D) among others.
More information on NEW PEOPLE is available at www.newpeopleworld.com.
About NEW PEOPLE, Inc.
Based in San Francisco, California, NEW PEOPLE, Inc. (www.newpeopleworld.com) offers the latest films, art, fashion and retail brands from Japan through its unique entertainment destination as well as through licensing and distribution of selective Japanese films as well as various forms of entertainment. NEW PEOPLE Entertainment (www.newpeopleent.com), a film division of NEW PEOPLE, Inc. strives to offer the most entertaining motion pictures straight from the "Kingdom of Pop" for audiences of all ages, especially the manga and anime generation, in North America. Some titles include DEATH NOTE, GANTZ, KAMIKAZE GIRLS, and THE TASTE OF TEA.
Last Updated: September 6, 2021 - 08:15