Neon Genesis Evangelion 3-in-1 Edition: Volume 2 manga review
By Leroy Douresseaux
March 19, 2013 - 14:42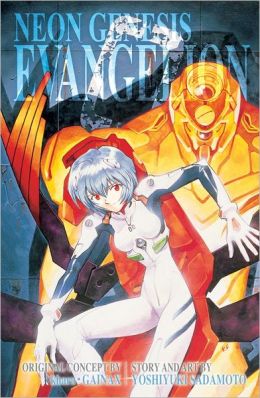 Neon Genesis Evangelion 3-in-1 Edition Volume 2 cover image is courtesy of barnesandnoble.com.
Rated "T+" for "Older Teen"
Before the anime, Neon Genesis Evangelion, aired in late 1995, its tie-in manga, also entitled Neon Genesis Evangelion, debuted in 1994. In addition to publishing single-volume Neon Genesis Evangelion graphic novels, VIZ Media is reprinting the series in 3-in-1 editions, which gather three graphic novels in one large-sized, single volume.
Neon Genesis Evangelion is the story of humans at war with hostile beings called Angels. The human side of the conflict is led by NERV, a paramilitary organization. NERV created giant biomechanical units (or mecha) called Evangelions (also known as EVA or Evas) that are piloted by teenagers. The lead character is 14-year-old Shinji Ikari, EVA "Unit-01" pilot, who is also known as the "Third Child."
Neon Genesis Evangelion 3-in-1 Edition, Vol. 2 (Chapters 20 to 40) reprints Neon Genesis Evangelion, Volumes 4 to 6. In Volume 4, Asuka Langley Soryu (the "Second Child"), the EVA Unit-02 pilot, comes to the fore. The golden-red-haired teen is dismissive of Shinji. When they meet a powerful Angel with a surprising ability, Shinji and Asuka must learn to work together. That training will bring them closer than they ever wanted to be.
In Volume 5, roommates Shinji and Misato Katsuragi, the 29-year-old NERV operations chief, get a new roommate. Shinji confronts his father, 48-year-old Gendo Ikari, the Supreme Commander of NERV, at this mother's grave. Misato also discovers secrets about Ryoji Kaji and his loyalties.
In Volume 6, meet 14-year-old Rei Ayanami, the "First Child" and EVA Unit-00 pilot. Wait; you've already met her… Shinji's pal, Toji Suzuhara, has an admirer. Also, NERV recruits the "Fourth Child," who receives a baptism by fire.
THE LOWDOWN: Having never seen Neon Genesis Evangelion the anime, I was curious to read Neon Genesis Evangelion the manga, once I learned that it existed. The more I read the manga, the more I liked it. I would suggest that readers start at the beginning with these 3-in-1 editions. I started reading Neon Genesis Evangelion with Volumes 12 and 13 of the graphic novel series. They were enjoyable, but I was somewhat lost.
The early chapters of Neon Genesis Evangelion the manga are simple and straight forward. They develop slowly, and author Yoshiyuki Sadamoto allows the reader to get to know the characters – some more than others, but always enough to tell the story or to entice the reader to keep reading to learn more.
Shinji Ikari is the vehicle through which we are introduced into the world of NERV and the Evangelions. Shinji starts off a bit soft and unfocused for a lead. By Vol. 4, Sadamoto has fleshed out Shinji, so the moody, sad boy has developed a playful side and even becomes more forceful. Why am I writing about a character and not about the giant robot battles – because I want more of the characters than I want of the giant robots, which are cool, though.
POSSIBLE AUDIENCE: Readers looking for classic mecha must look for Neon Genesis Evangelion 3-in-1 Edition.
Rating: A /10
Last Updated: January 24, 2022 - 11:00