Neon Genesis Evangelion: Volume 13 manga review
By Leroy Douresseaux
November 12, 2012 - 15:54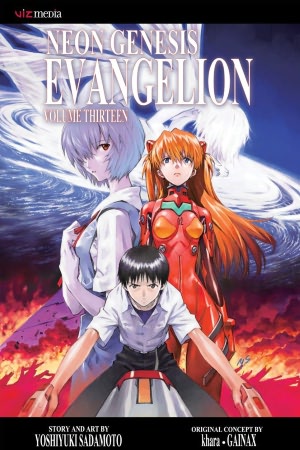 Neon Genesis Evangelion Volume 13 cover image is courtesy of barnesandnoble.com.
Rated "T+" for "Older Teen"
The anime, Neon Genesis Evangelion, has a comic book companion, Neon Genesis Evangelion the manga, which is produced by creator, Yoshiyuki Sadamoto. It is the story of humans at war with hostile beings called Angels. The human side of the conflict is led by NERV, a paramilitary organization. The Earth is defended by giant mecha called Evangelions (also known as EVA and Evas) that are piloted by teenagers. The lead character is 14-year-old Shinji Ikari, EVA "Unit-01" pilot.
As Neon Genesis Evangelion, Vol. 13 opens, Asuka Langley Soryu fights for her life as she tries to survive an onslaught of mass-produced Evas. Shinji comes to the rescue, but will he need to be rescued? Meanwhile, his father, Gendo Ikari, NERV Supreme Commander, prepares to initiate the final phase of the Instrumentality Project. Things don't go according to plan, however, and Shinji experiences something incredible.
THE LOWDOWN: Although I knew of Neon Genesis Evangelion, my first experience with the franchise was when I read Volume 12 of the manga last year. I did not enjoy Volume 13 quite as much as I did the previous volume. I still love the art, and there is some crazy stuff happening in this volume that recalls Kubrick's 2001: A Space Odyssey. The fight comic-battle manga lover in me could drool over the mecha fight scenes in this volume (which take up a significant portion of this volume) all day. Sad, but true.
POSSIBLE AUDIENCE: Readers looking for shonen science fiction and classic mecha comics will want Neon Genesis Evangelion.
Rating: B+ /10
Last Updated: January 24, 2022 - 11:00