VIZ Media Offers 2 Neon Genesis Evangelion in November
By The Editor
November 3, 2012 - 15:22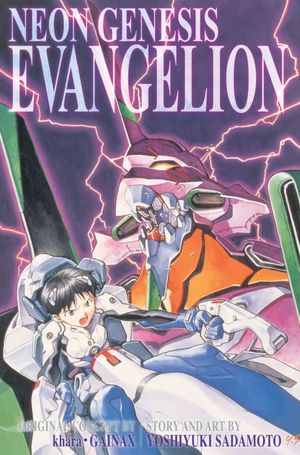 Neon Genesis Evangelion 3-in-1 Volume 1 cover
VIZ MEDIA DELIVERS DOUBLE-DOSE OF NEON GENESIS EVANGELION MANGA, INCLUDING PRINT & DIGITAL DEBUT OF LATEST VOLUME THE SAME DAY AS JAPAN
Volume 13 Of The Legendary Sci-Fi Action Series Debuts November 2nd; New 3-In-1 Omnibus Launches November 13th And Features Full-Color Bonus Pages
VIZ Media, LLC (VIZ Media), the largest publisher, distributor and licensor of manga and anime in North America, delivers an exciting double-dose of NEON GENESIS EVANGELION to manga (graphic novel) readers in November with the release of the series' newest installment – Volume 13 – as well as the launch of the first volume of a new 3-in-1 omnibus edition of the venerable sci-fi action saga.
NEON GENESIS EVANGELION, Volume 13 is rated 'T+' for Older Teens and will be released on November2nd with an MSRP of $9.99 U.S. / $13.99 CAN. The volume will also be available digitally for $4.99 U.S. / CAN through VIZManga.com and the VIZ Manga App for iPad®, iPhone®, iPod® touch, Android-enabled devices, and Kindle Fire. A free preview of the series may be read at http://www.vizmanga.com/reader/479.
The opening volume of the NEON GENESIS EVANGELION 3-in-1 omnibus series bundles Volumes 1-3, is also rated 'T+' for Older Teens, and will debut on November 13th with an MSRP of $19.99 U.S. / $22.99 CAN. Each volume will feature stunning full-color artwork.
Japan's most controversial anime series is over...but not the manga version of NEON GENESIS EVANGELION! Series co-creator Yoshiyuki Sadamoto's personal interpretation of the iconic Evangelion characters and story is sure to intrigue new and old fans alike. In 2015, the "Angels" have returned, and Shinji Ikari, a fourteen year-old child of the new Earth, is forced by his father Gendo – commander of the secret organization NERV – to pilot a monstrous biomechanical weapon called "Evangelion" to match the Angels' fearsome power...
In the latest Volume 13, the world hangs in the balance as NERV pilot Asuka fights to survive an onslaught of Evas determined to destroy her. Shinji rushes to help, but he may be too late. Deep inside the NERV command center, Dr. Ikari is about to set in motion the last act of the Instrumentality Project. Everything has gone according to Ikari's plans so far, but even he cannot foresee the role Shinji will play in determining the future!
Yoshiyuki Sadamoto is one of the founding members of the animation powerhouse Studio Gainax and is the acclaimed character designer for THE WINGS OF HONNEAMISE, NADIA, and the NEON GENESIS EVANGELION animated series, as well as many other anime, illustration, and art projects. His NEON GENESIS EVANGELON art book, DER MOND, is also available from from VIZ Media. NEON GENESIS EVANGELION is Sadamoto's only full-length manga series.
VIZ Media's innovative digital manga platform features a rapidly growing library of the most popular manga series in the world, and allows for universal access to read manga from your iPhone®, iPod® touch, iPad®, Android smart phones and tablets (including the Kindle Fire), as well as on VIZManga.com on your desktop and laptop computers. More than 100 different series and over 1,000 volumes are currently available for download, with new series and volumes added every Tuesday. The VIZ Manga App is available for free through the iTunes Store, Google Play Store and Amazon Appstore, and all manga volumes are generally available for purchase and download within the application in the U.S. and Canada for $4.99 per volume.
For more information on NEON GENESIS EVANGELION, please visit: www.viz.com/neon-genesis-evangelion.
Download the free VIZ Manga App for Android and iOS devices at www.VIZ.com/apps. To learn more about VIZ Manga, please visit www.vizmanga.com.

Last Updated: September 6, 2021 - 08:15