Neon Genesis Evangelion: Volume 12
By Leroy Douresseaux
February 20, 2011 - 08:41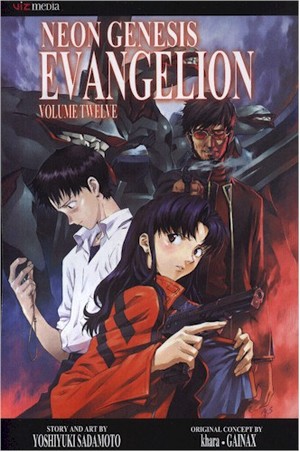 Neon Genesis Evangelion Volume 12 cover image
Rated "T+" for "Older Teen"
Neon Genesis Evangelion the manga is the companion to the Neon Genesis Evangelion anime. It is the story of humans at war with hostile beings called Angels. The human side of conflict is led by NERV, a paramilitary organization. The Earth is defended by giant mecha called Evangelions (also known as EVA and Evas) that are piloted by teenagers. The lead character is 14-year-old Shinji Ikari, EVA "Unit-01" pilot.
In Neon Genesis Evangelion, Vol. 12, government forces, the JSSDF, launch a brutal assault on NERV headquarters, killing everyone they encounter. NERV operations chief, Misato Katsuragi has to get Shinji and EVA "Unit-02" Pilot Asuka Langley Soryu into their Evangelions. However, Asuka is ill, and Shinji's encounter with his father, Gendo Ikari, NERV Supreme Commander, has left him doubting everything he's done. When Asuka does enter battle, she will have to face an invasion of mass-produced Evas.
THE LOWDOWN: Although I'd heard of Neon Genesis Evangelion, this 12th volume of the manga series is my first experience with it in any form. Surprisingly, I found that with a little research, I was able to follow the manga's narrative, and I enjoyed it. What I found appealing was the excitement of Shinji and his side taking on the gun-wielding invaders; it had a really thrilling backs-against-the-wall vibe.
The Neon Genesis Evangelion manga reminds me of Akira, especially the art of the creator behind the manga, Yoshiyuki Sadamoto. The fast paced, tense, graphic storytelling looks and reads like Katsuhiro Otomo's Akira manga, and as an Akira-lover, I'd like more Neon Genesis Evangelion.
POSSIBLE AUDIENCE: Readers looking for shonen science fiction and classic mecha comics will want Neon Genesis Evangelion.
A-
Last Updated: August 31, 2023 - 08:12