Naruto: Volume 58 manga review
By Leroy Douresseaux
September 9, 2012 - 22:23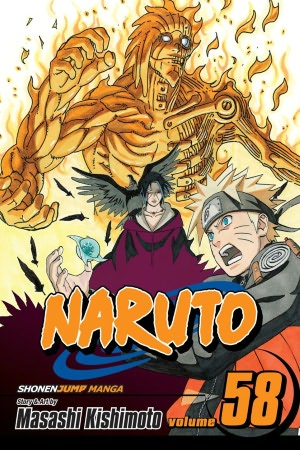 Naruto Volume 58 cover image is courtesy of barnesandnoble.com.
Rated "T" for "Teen"
Uzumaki Naruto was a young shinobi (ninja) with a knack for mischief. He was the biggest troublemaker at the Ninja Academy in the shinobi Village of Konohagakure. Naruto is special because when he was a baby, his parents imprisoned a nine-tailed fox spirit within his infant body. Now, a 16-year-old ninja, mischievous Naruto is very serious about his quest to become the world's greatest ninja.
Akatsuki villains Madara and Kabuto declare war on the ninja world, known as the Five Great Nations. The Gokage, the five great leaders, put together the Allied Shinobi Forces to fight back, and the Fourth Great Ninja War begins. As Naruto, Vol. 58 (entitled Naruto vs. Itachi) starts, the shinobi continue to battle Kabuto's army of undead ninja. Meanwhile, the history of Lord Gaara, the Kazekage, is revealed. Can he get past his self-doubt with a little help from the undead?
Naruto and Killer Bee take on Nagato and Itachi Sasuke, but Itachi makes a surprise decision to save his brother and Naruto's former teammate, Uchiha Sasuke. Madara makes his own move to capture the tailed-spirits, and Naruto battles the Third Raikage, whom Madara has also brought back from the dead.
THE LOWDOWN: The Naruto manga is one of the more talkative shonen battle manga that readers will encounter. While the Bleach manga is a symphony of stylish graphics and battles with an operatic tone, Naruto is novelistic in its approach to comic storytelling. Creator Masashi Kishimoto is interested in character drama, with all its requisite rivalries and conflicts (internal and external). Naruto is about history, and any readers that want to engage the inherent coolness of Naruto will have to dive into a deep and convoluted history if they want to dive into action.
POSSIBLE AUDIENCE: Readers who want to read the best of the best will want Naruto.
Rating: A /10
Last Updated: January 24, 2022 - 11:00