Naruto: Volume 69 manga review
By Leroy Douresseaux
March 28, 2015 - 17:47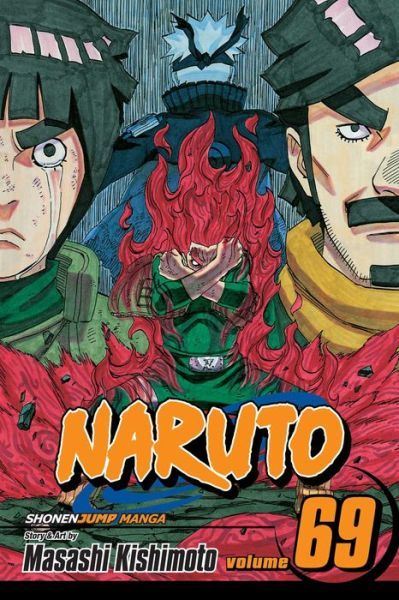 Naruto Volume 69 cover image is courtesy of barnesandnoble.com.
Follow me on
Twitter
.
Rated "T" for "Teen"
The young
shinobi
(ninja),
Uzumaki Naruto
, had an incorrigible knack for mischief. He was the biggest troublemaker at the Ninja Academy in the shinobi Village of Konohagakure. Naruto was an outcast because there was something special about him. When he was a baby, his parents (father
Minato
and mother
Kushina
) imprisoned a nine-tailed fox spirit (
Kurama
) inside his infant body. Now, 16-years-old and incorrigible as ever, Naruto is still serious about his quest to become the world's greatest ninja.
Two Akatsuki villains,
Uchiha Madara
and
Kabuto
, declared war on the
Five Great Nations
of the ninja, guided in this endeavor by their secret ally,
Uchiha Obito
.
The Fourth Great Ninja War
begins and the five great shinobi leaders, known as the
Gokage
, formed the
Allied Shinobi Forces
to fight. Obito and Madara's ultimate goal was to revive the monstrous tailed-beast,
Ten Tails
.
Naruto

, Vol. 69
(entitled
The Start of Crimson Spring
– Chapters 658 to 668) opens after Naruto defeats Obito, with reason rather than with violence. However, Obito's partner Madara has stepped forward, revealing that he was using Obito all along. Now, Madara has taken charge of Ten Tails and sets about putting collars on the other
biju
(tailed-beasts), including Naruto's Kurama.
Black Zetsu
returns. Naruto and his redeemed teammate,
Sasuke Uchiha
, are grievously wounded. Now, only Naruto's revived father can save him. Plus, in a flashback, we see Naruto's father, Minato, and his pregnant mother, Kushina, worry about the unborn Naruto.
THE LOWDOWN:
I am finally caught up with the
Naruto
manga.
Naruto Volume 69
was released the first week of this month (March). This is one of those volumes that focuses more on the other characters than it does
Naruto
, and that's a good thing.
Naruto
is filled with wonderful and engaging characters worth getting to know.
There is a small arc within the main story arc featuring the eccentric ninja,
Gus
. Creator
Masashi Kishimoto
weaves a poignant and engaging tale that reveals Gus' power and also the story of a father teaching a son to be proud of what he is and what he can do. Now, I'm ready for the next graphic novel in this series.
POSSIBLE AUDIENCE:
Fans of the great shonen battle manga must have the Shonen Jump title,
Naruto
, on their reading lists.
Last Updated: January 24, 2022 - 11:00