Boruto: Naruto Next Generations Volume 1 manga review

By Leroy Douresseaux
April 3, 2017 - 12:27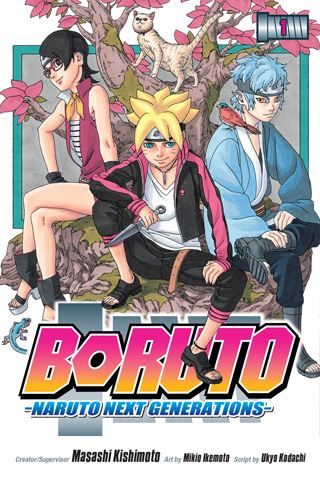 Boruto: Naruto Next Generations Volume 1 cover image
Rated "T" for "Teen"
The long-running manga series, Naruto, was the story of Uzumaki Naruto, a young shinobi (ninja) who lived in the shinobi Village of Konohagakure. Naruto had an incorrigible knack for mischief and was the biggest troublemaker at the Ninja Academy. However, Naruto was serious about his quest to become the world's greatest ninja and the Hokage, leader of his village.
Under the supervision of Naruto creator, Masashi Kishimoto, artist Mikio Ikemoto and script writer Ukyo Kodachi present Boruto: Naruto Next Generations. This is the sequel to Naruto and focuses on Naruto's son, Uzumaki Boruto. Naruto did achieve his dream and his face sits atop the Hokage monument, but this is not Naruto's story. A new generation of ninja wants to take the stage, including Boruto, who wants to topple his father's face from the Hokage monument.
Boruto: Naruto Next Generations, Vol. 1 (entitled Uzumaki Boruto!! – Chapters 1 to 3) finds young Boruto making his way through the life of a ninja-in-training. He lacks patience and wants to be powerful now, so he is just like his father once was. The Chunin Exams are coming up, and Boruto sees this as his chance to shine... even if has to take help from the Scientific Ninja Tool Corps.
[This volume includes the bonus story, "NARUTO: The Path Lit by the Full Moon."]
THE LOWDOWN: As a Shonen Jump manga reader, I am glad to be back in the world of my favorite Shonen Jump title, Naruto. I have been waiting for the Boruto: Naruto Next Generations manga, and while it is not the manga that Naruto was, Boruto is off to a good start.
Boruto: Naruto Next Generations Volume 1 contains three chapters (and an extra story starring a big-time Naruto villain), and those three chapters quickly go about the job of establishing this next generation of shinobi. Although Naruto creator Masashi Kishimoto is no longer the lead writer and artist on Boruto: Naruto Next Generations, he is supervising a creative team, artist Mikio Ikemoto and script writer Ukyo Kodachi, that is thus far hitting all the familiar Naruto notes, while adding some beats of their own by defining new personalities.
The truth is Boruto is a good Naruto substitute. It may also end up being a good manga all on its own.
I READS YOU RECOMMENDS: Fans of Naruto will want the Shonen Jump title, Boruto: Naruto Next Generations.
A-
Last Updated: August 31, 2023 - 08:12