Naruto: Volume 72 manga review
By Leroy Douresseaux
October 4, 2015 - 20:54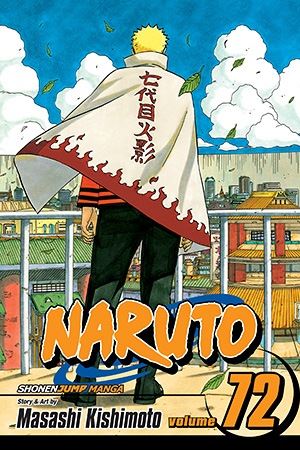 Naruto Volume 72 cover image
Rated "T" for "Teen"
As a young shinobi (ninja),
Uzumaki Naruto
had an incorrigible knack for mischief and was also the biggest troublemaker at the Ninja Academy in the shinobi Village of
Konohagakure
. He was an outcast because there was something special about him. When he was a baby, Naruto's parents (father
Minato
and mother
Kushina
) imprisoned a nine-tailed fox spirit (Kurama) inside his infant body. In time, he became a ninja with his classmates
Haruno Sakura
and
Uchiha Sasuke
. Now, 16-years-old and incorrigible as ever, Naruto has to save the world.
As
Naruto

, Vol. 72
(entitled
Uzumaki Naruto
– Chapters 691 to 700) opens, the Fourth Great Ninja War has ended, and its instigators, the Akatsuki, have been vanquished. Naruto and Sasuke sealed away the rogue Rabbit Goddess Kaguya. Now, the reunited classmates, fueled by opposing ideals, will fight each other in one final battle in order to determine the future of the world.
THE LOWDOWN:
The
Naruto
manga came to an end in Japan last November (2014) with the publication of the final serialized installment, Chapter 700. The final 10 chapters of Naruto arrive in North America, collected in the graphic novel,
Naruto Volume 72
.
I have made no secret that I think
Naruto
has been one of best comics published in North America over the last decade. In fact, there were a few years, when I thought that
Naruto
was the best comic book of the year. So I'm sad that it has ended. I didn't see it coming. I simply believed that the Fourth Great Ninja War would end and that the series would move on to the next world beaters.
Naruto
creator
Masashi Kishimoto
has a note at the beginning of Vol. 72 in which he says (basically) that he'd be honored if, in the future, we occasionally recall that there was once a character named Naruto. Kishimoto-san, because of your work, Naruto will never be a "was." There will always be a character named Uzumaki Naruto.
POSSIBLE AUDIENCE:
Readers, old and new, looking for the best in shonen battle manga and for the king of ninja manga will have 72 volumes of the Shonen Jump title,
Naruto
, to enjoy.
Rating: A+ /10
Last Updated: August 31, 2023 - 08:12