Naruto: Volume 70 manga review
By Leroy Douresseaux
June 2, 2015 - 18:09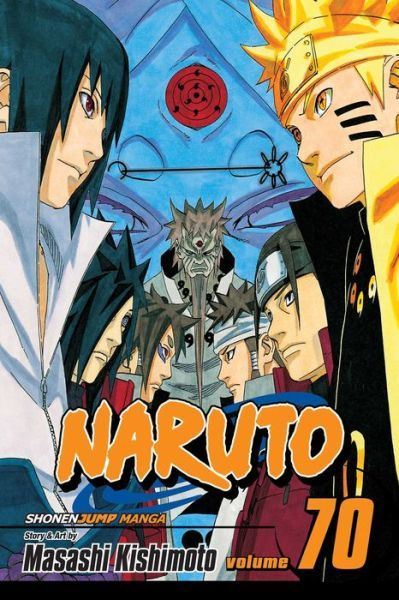 Naruto Volume 70 cover image is courtesy of barnesandnoble.com.
Rated "T" for "Teen"
There was a young shinobi (ninja) who had an incorrigible knack for mischief.
Uzumaki Naruto
was the biggest troublemaker at the Ninja Academy in the shinobi Village of Konohagakure. Naruto was an outcast because there was something special about him. When he was a baby, his parents (father Minato and mother Kushina) imprisoned a nine-tailed fox spirit (Kurama) inside his infant body. Now, 16-years-old and incorrigible as ever, Naruto is still serious about his quest to become the world's greatest ninja.
The Akatsuki villain,
Uchiha Madara
, was the true instigator of
The Fourth Great Ninja War
. Reviving the monstrous tailed-beast (biju),
Ten Tails
, was just the part of his plan.
Naruto

, Vol. 70
(entitled
Naruto and the Sage of Six Paths
– Chapters 669 to 679) opens with
Might Guy
taking on the seemingly unbeatable Madara. Is his power enough to stop Madara... or to even give the villain pause?
Meanwhile, Naruto, who was dying, is deep inside his "inner mind." There, he meets the
Sage of Six Paths
, the special figure who may change the entire direction of the battle. Plus, learn the ancient history of chakra.
THE LOWDOWN:
As you may (or may not) know, the
Naruto
manga came to an end in Japan last November (2014). All that is left is the collection of the last group of chapters in tankoubon form (or graphic novels).
Naruto Volume 70
is the second-to-last graphic novel in the series.
As big as the action that is the The Fourth Great Ninja War has been these last few years, it is hard to believe everything will be wrapped up in Vol. 72, which is due this coming fall. However, everything that has marked
Naruto
as a superlative shonen battle manga is in top form in Vol. 71. Creator
Masashi Kishimoto
deserves to end the series when he wishes, but it is clear that
Naruto
could have continued for years to come and still be in top form.
POSSIBLE AUDIENCE:
Fans of the great shonen battle manga must have the Shonen Jump title,
Naruto
, on their reading lists.
Last Updated: January 24, 2022 - 11:00