Naruto: Volume 56 manga review
By Leroy Douresseaux
May 14, 2012 - 12:44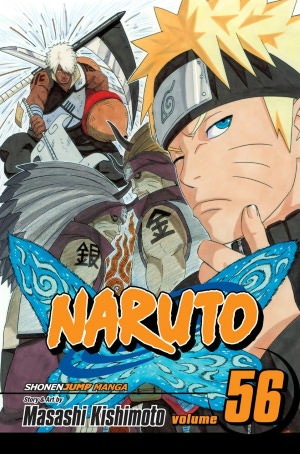 Naruto Volume 56 cover image is courtesy of barnesandnoble.com.
Rated "T" for "Teen"
Uzumaki Naruto was the biggest troublemaker at the Ninja Academy in the shinobi (ninja) Village of Konohagakure. When he was a baby, his parents imprisoned a nine-tailed fox spirit within Naruto's infant body. Now, a 16-year-old ninja, mischievous Naruto is very serious about his quest to become both the world's greatest ninja.
Akatsuki villains Madara and Kabuto declared war on the ninja world, and the Five Kage put together an Allied Shinobi Force to fight back. As Naruto, Vol. 56 (entitled Team Asuma, Reunited) begins, the fourth Great War rages. The villainous Kabuto continues to raise ninja heroes from the dead. Now, the shinobi find, among these reanimated ninja soldiers, friends and enemies that they must face again.
That is why Team Asuma, formerly known as Cell Number 10, is reunited. Three young leaders: Choji, Ino, and Shikamaru, formerly of Team Asuma, must face their late mentor, Asuma, risen from the dead and now an enemy. Why is Choji having the hardest time of the three in fighting his old mentor and leader? Meanwhile, Darui takes on the Gold and Silver Brothers, and the samurai Mifune battles Lord Hanzo and his giant, poisonous Black Salamander.
THE LOWDOWN: Every now and again, I find a volume of the Naruto manga that I don't worship and glorify as do with most volumes. The 55th volume of Naruto was one of those volumes, because, at that point in the fourth Great War arc, Naruto was relegated to the background.
While that remains the case in this 56th volume, creator Masashi Kishimoto gives us other storylines and subplots, filled with engaging back story and his usual brand of imaginative and inventively designed characters. The brown-skinned Darui's battle with Kinkaku and Ginkaku (the aforementioned Gold and Silver Brothers) is an outburst of funky powers and outlandish folks. "Team Asuma, Reunited" is one of those nice stories aimed at young readers that offers themes about growing up and taking one's place as the next generation of leadership.
POSSIBLE AUDIENCE: Readers looking for the world's best comics and/or manga will find one in Naruto.
A-
Last Updated: August 31, 2023 - 08:12