Naruto: Volume 55
By Leroy Douresseaux
March 5, 2012 - 09:11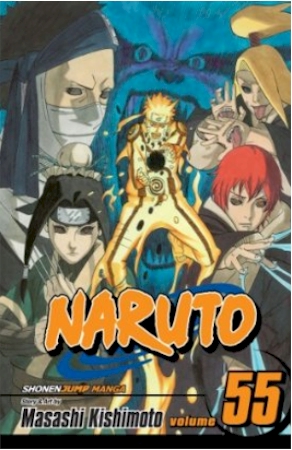 Naruto Volume 55 cover image is courtesy of Anime Castle Books.
Rated "T" for "Teen"
Uzumaki Naruto was the biggest troublemaker at the Ninja Academy in the shinobi (ninja) Village of Konohagakure. When he was a baby, his parents imprisoned a nine-tailed fox spirit within Naruto's infant body. Now, the 16-year-old ninja is very serious about his quest to become both the world's greatest ninja and the "Hokage," his village's champion.
Akatsuki villains Madara and Kabuto have declared war on the ninja world. As Naruto, Vol. 55 (entitled The Great War Begins), the fourth Great War begins. The Allied Shinobi Force is formed. Kabuto has reanimated a legion of dead ninja, and now, they march on the ninja allies. Meanwhile, rapping ninja, Killer Bee, continues to tutor Naruto on how to use the power of Nine-Tails. Naurto's mentor, Hatake Kakashi, leads a squad into battle, as he formulates a plan to stop this army of the dead ninja.
THE LOWDOWN: I think this 55th volume of Naruto manga is one of the more awkward volumes in terms of story. It certainly was a jarring read for me. The Naruto/Killer Bee plotline seems to be in some kind of loop similar to the one in the film, Groundhog Day. The Hatake Kakashi segments are pretty good, and the battle scenes are raw and coarse, even depicted in black and white art. However, I think Naruto creator Masashi Kishimoto saved the best part of this ninja war for future chapters.
POSSIBLE AUDIENCE: Readers looking for the world's best comics and/or manga will find one in Naruto.
B+
Last Updated: January 24, 2022 - 11:00