Civil War Links to House of M
By The Editor
August 11, 2008 - 04:55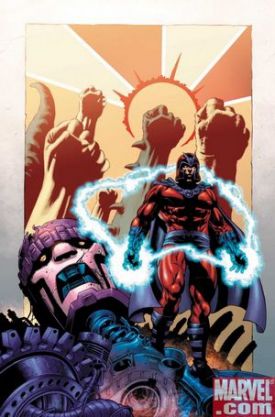 Civil War: House of M #1 cover
Return to the House of M for Civil War!
When the Scarlett Witch suffered a mental break down and altered the Marvel U, creating a world where Magneto ruled, she forever changed the universe – Welcome to the House of M! Now, find out the secret history of how the Master of Magnetism came to rule in Civil War: House of M #1! Rising star writer, Christos Gage (Thunderbolts, House of M: Avengers), joins forces once again with his World War Hulk: X-Men collaborator, artist Andrea Di Vito (Annihilation, Marvel Comics Presents) for the greatest House of M story never told! As Magneto fights for the liberation of mutants, witness the transformation that makes him leader of all! There will be Sentinals galore, a very familiar mutant Professor, and an explosive battle with the mutant High Lord… Apocalypse! Plus, a stunning cover featuring the artwork of Mike Perkins (upcoming The Stand: Captain Trips)!
How did Magneto come to rule all mutants and the world? Whatever happened to Professor X? What will be the fate of Apocalypse? Find out the answers to these questions and more in this not-to-miss limited series, Civil War: House of M #1!

CIVIL WAR: HOUSE OF M #1 (of 5) (JUL082282)
Written by CHRISTOS GAGE
Penciled by ANDREA DI VITO
Cover by MIKE PERKINS
Rated T+ …$2.99
FOC-- 08/21/08 On-Sale-- 09/10/08

To find a comic shop near you, call 1-888-comicbook
Last Updated: September 6, 2021 - 08:15