Magi: The Labyrinth of Magic Volume 11 manga review
By Leroy Douresseaux
April 11, 2015 - 20:45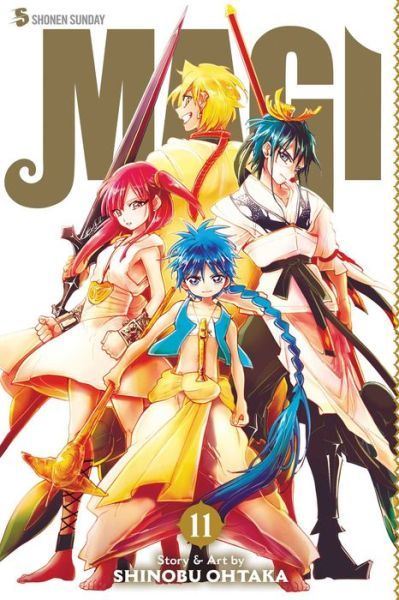 Magi Volume 11 cover image is courtesy of barnesandnoble.com.
Follow me on
Twitter
.
Rated "T" for "Teen"
The shonen manga,
Magi
, is set in an alternate version and recreation of the ancient Old World (similar to ancient Persia). About 14 years before the story begins, several magic castles (of various architectural styles) begin to appear in this world. Full of treasures and traps, these mysterious ruins are known as "
Dungeons
."
Aladdin
and his friend,
King Alibaba Saluja
, embark on a dangerous and deadly adventure into Dungeons to find fortune and glory and more adventure.
As
Magi

, Vol. 11
(Chapters 99 to 108) begins, Aladdin, Alibaba, and their friends fight for their lives in
Dungeon No. 61: Zagan
. They are face-to-face with an enemy that has slowly been revealing itself,
Al-Thamen
. This secretive organization spreads war, poverty, and disease. Now, three of the fiercest members:
Isnan
,
Princess Dunya Musta'Sim
, and
Isaak
(Dunya's knight) are in Zagan and are determined to find the treasure for themselves.
At first, it seems like Aladdin and Alibaba alone must fight this trio, but
Hakuryu Ren
joins the battle. Plus, the history of Dunya and Isaak are revealed, and a djinn chooses a surprise winner.
THE LOWDOWN:
The
Magi
manga (subtitled
The Labyrinth of Magic
) is certainly not the one-note shonen adventure manga that I thought it would be. As always, it is a thoroughly enjoyable read, in large measure because of
John Werry
's clean English adaptation of the original Japanese.
In
Magi Volume 11
, creator
Shinobu Ohtaka
continues to unleash the forces of Al-Thamen, the perfect adversary for the youthful adventurers that are this series' heroes. I really like manga flashbacks that reveal the tragic histories of both heroes and villains, and Vol. 11 has a nice one. This volume's cliffhanger ending also guarantees that readers will be back for more
Magi
.
POSSIBLE AUDIENCE:
Readers, especially young manga readers, looking for adventure stories will want to be a
Magi
.
Rating: A- /10
Last Updated: May 19, 2020 - 12:25