Magi The Labyrinth of Magic: Volume 26 manga review
By Leroy Douresseaux
December 12, 2017 - 18:54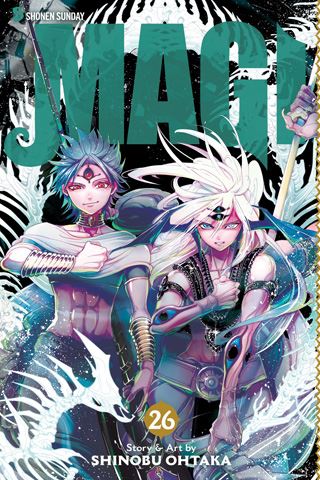 Magi Graphic Novel Volume 26 cover image
Rated "T" for "Teen"
Magi
is set on a world that is an alternate version and recreation of the ancient Old World (similar to ancient Persia). About 14 years before the story begins, several magic castles (of various architectural styles) begin to appear in this world. These mysterious ruins are known as "Dungeons," and they are full of treasures and traps.
Aladdin
, who is a
Magi
, and his friend,
King Alibaba Saluja
, embark on dangerous and deadly adventures into those Dungeons to find fortune and glory and more adventure.
As
Magi

, Vol. 26
(Chapters 249 to 258) opens, Aladdin fears that the world is headed towards the terrible fate of
Alma Tran
, the world before this one. A former friend of Alibaba's,
Hakuryu Ren
, has decided that people going to war over any kind of disagreement is the way things should be. Hakuryu kills his mother,
Gyokuen
, Empress of Kou, and becomes the Emperor of Kou.
Now, Hakuryu joins Judar, the magi of the
Kou Empire
, in a plan to destroy Hakuryu's former ally and relative,
Koen Ren
. Aladdin and Alibaba head to Kou in hopes of talking sense into Hakuryu, but in a battle of maximum magic, will the good guys loose their souls?
THE LOWDOWN:
I always say that the Magi manga (subtitled The Labyrinth of Magic) has offered so much adventure and so many subplots in its previous 25 graphic novels. As the series heads towards its finale, action takes center stage
Magi Graphic Novel Volume 26
is pure battle manga, while the previous volume mixed epic adventure and battle manga. The last two years worth of graphic novels have revealed a dark and tragic past, so it seems that only pitched battle can stop a repeat of that. I miss the adventure of the earliest volumes of this series, but I cannot deny that I like battles of maximum magic.
I READS YOU RECOMMENDS:
Readers, especially young manga readers, looking for adventure stories will want to read the "Shonen Sunday" title,
Magi
.
A
9 out of 10

Last Updated: August 31, 2023 - 08:12