Magi: The Labyrinth of Magic Volume 5
By Leroy Douresseaux
April 9, 2014 - 16:59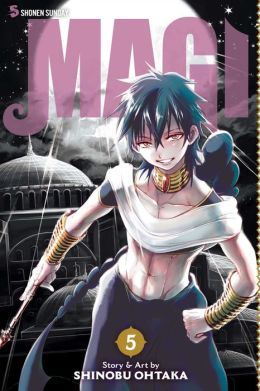 Magi Volume 5 cover image is courtesy of barnesandnoble.com.
Rated "T" for "Teen"
The manga entitled Magi (subtitled The Labyrinth of Magic) is set in an alternate version slash recreation of the ancient Old World (perhaps, ancient Persia). About 14 years before the story starts, several magic castles (of various architectural styles) begin to appear. Full of treasures and traps, these mysterious ruins are known as "Dungeons." Two new friends, Aladdin and Alibaba Saluja, are about to embark on a dangerous and deadly adventure into a Dungeon to find fortune and glory.
As Magi, Vol. 5 (Chapters 38 to 48) begins, Aladdin has finally been reunited with his friend, Alibaba. Now, Alibaba tells his young friend how he first met Cassim, their long and complicated history, and how he joined Cassim's "Fog Troop," which led to him earning the nickname, "Alibaba the Wondrous." The other surprise is the truth about Alibaba's origins and his lineage.
Meanwhile, Aladdin and Morgiana learn more about their friend "Sin," who is really Sinbad, King of Sindria. Sinbad is ready to confront King Ahbmad of Balbadd over the condition of his people, but powerful forces stand behind the King. This includes another Magi, with whom Sinbad is acquainted.
THE LOWDOWN: In spite of myself, I like the Magi manga. I am certainly not in the series' target demographics, late pre-teen and early teen readers, especially boys. Perhaps, it is the timeless charms of the series' Persian origins that catch me.
Magi Volume 5 is packed with so many stories: Alibaba's origins, his relationship to Cassim, his birth father, his betrayal, his criminal activities, and more (believe it or not). I started to think that Vol. 5 was one of VIZ Media's 3-in-1 editions. Hey, it's hard to beat more bang for your buck.
POSSIBLE AUDIENCE: Readers, especially young manga readers, looking for treasure-hunting adventure will want to try Magi.
Rating: A- /10
Last Updated: February 5, 2023 - 09:06