Magi: Labyrinth of Magic Volume 4 Advanced manga review
By Leroy Douresseaux
February 10, 2014 - 15:12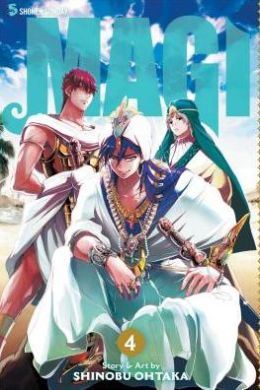 Magi Volume 4 cover image is courtesy of barnesandnoble.com.
Rated "T" for "Teen"
Magi (subtitled the Labyrinth of Magic) is a manga set in a recreation and alternate version of the ancient Old World (perhaps, ancient Persia). About 14 years before the story starts, several magic castles (of various architectural styles) begin to appear. Full of treasures and traps, these mysterious ruins are known as "Dungeons." Two new friends, Aladdin and Alibaba Saluja, are about to embark on a dangerous and deadly adventure into a Dungeon to find fortune and glory.
As Magi, Vol. 4 (Chapters 28 to 37) begins, Morgiana takes on a group of fort bandits. The leader, Fatima, is impressed by Morgiana's fighting prowess, and she wants the girl for a slave. But Fatima and her cohorts are about to discover just how determined a member of the Fanaris warrior tribe can be.
Morgiana is eventually reunited with Aladdin, whom she last saw six months when they were exploring Dungeon No. 7 with Alibaba. In fact, now that they are reunited, Aladdin and Morgiana begin their journey to find Alibaba. Along the way, they meet a guy calling himself "Sin." The trio arrives in the Kingdom of Balbadd, which is seething with corruption and dissent. The small country is also besieged by a group of bandits called the "Fog Troop," and their leader is someone known as "Alibaba the Wondrous."
THE LOWDOWN: With each volume, the Magi manga improves. The characters' personalities and goals are clearer. Magi Volume 4 is the best volume yet. The importance of Aladdin and Alibaba's friendship became convincing to me with this volume. I believed in their ambitions.
Series creator Shinobu Ohtaka actually opens this series to new readers. Ohtaka also takes the time to briefly explain the concept of the "magi." In fact, I found that I finally understood the background, back story, and mythology of Magi. Also, the chapters in Vol. 4 are brimming with a sense of adventure. This is a fun series to read, and I think it will appeal to young readers.
POSSIBLE AUDIENCE: Readers, especially young manga readers, looking for treasure-hunting adventure will want to try Magi.
Rating: A- /10
Last Updated: January 24, 2022 - 11:00