Love and Rockets: New Stories #2
By Leroy Douresseaux
September 13, 2009 - 14:01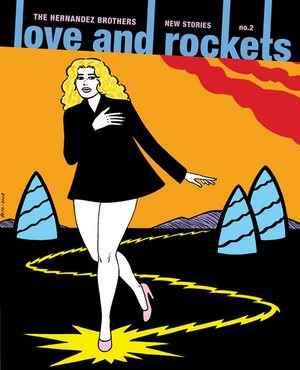 Love and Rockets: New Stories #2
Love and Rockets: New Stories is the third incarnation of Love and Rockets, the best American comic book ever. Published by Fantagraphics Books, New Stories is a reboot of this phenomenal comic book as an annual, graphic novel-length package. New Stories is presented in a format like Fantagraphics' acclaimed anthology, Mome, which is a comic book and literary magazine combination, designed with bookstores and their shelves in mind.
Love and Rockets: New Stories #2 offers the usual idiosyncratic comix of Los Bros – Gilbert Hernandez and Jaime Hernandez. Gilbert offers two stories – one a tale of disaffected youth and the other a surreal pantomime comix novella. Jaime offers the concluding, 50-page second half of "Ti-Girls Adventures," an uproarious, off-kilter version of the Silver Age superhero story.
The star of "Sad Girl" (which was apparently previewed in Fantagraphics' 2009 Free Comic Book Day sampler) is Dora Rivera, a bombshell actress and brooding youth nicknamed "Killer." Killer carries around her a web of jealousy, gossip, notoriety and mystery that she seems to take with a stiff upper lip and an understated joy. She draws attention for two reasons. First, Killer appeared in a still unreleased movie which is a remake of "an old art house production" and which may also be a porn movie. The second attention grabbing bit of gossip about Killer is her on-again, off-again relationship with her unnamed boyfriend.
"Sad Girl" is not a story about Luba, Gilbert's signature character, but Killer certainly has Luba's prodigious chest, and her aura is Luba-like. Like many stories set in the world of Luba, this is a tawdry, oblique, mini-soap opera. It's weird and haunting and has a touch of the L.A. youth scene that was a staple of early Love and Rockets comics. "Sad Girl" engages, but that is what Gilbert's work does. Both eccentric and literate, his comics grab the reader, even the ones that ultimately go nowhere, and "Sad Girl" ultimately goes nowhere.
"Hypnotwist" is a 39-page wordless story that follows an unnamed, leggy redhead on her weird journey into a dreamlike night. It is a night filled with bizarre and shady characters and a series of women that just might be unhappy future versions of her. "Hypnotwist" is like Alice in Wonderland slammed into that strange afterlife dimension in the film Beetlejuice (1988). I just wrote that Gilbert's work is eccentric and literate; "Hypnotwist" is firmly eccentric. It is visually interesting, if for no other reason than Gilbert's amazingly imaginative and splendidly drawn compositions.
Jaime's "Ti-Girls Adventures" is divided into two, 25-page sections that begin and end New Stories #2. The lead character, Boot Angel, learns more lessons about being a super-heroine, including that it is a hard and dangerous rather than glamorous life. Along the way, she ends up in the middle of fight between battling super women, both villains and heroes. The big showdown involves Penny Century and unexpectedly takes place in classic L&R character, Maggie's tiny one-bedroom apartment. We even get a history of the Ti-Girls organization and an explanation of super powers a.k.a. "the Gift."
I never forget how fun it is to read a Jaime Hernandez comic book. I think that he has consistently been the best comic book artist in North America (or at least on the shortlist) for the last quarter century. He hasn't lost a step in his drawing hand (or on the drawing side of his brain). He remains a master of black and white comic book art – the best since the late Alex Toth.
What did surprise me was how enjoyable "Ti-Girls Adventures" was, simply because it was silly and crazy, but also thoughtful like an old Stan Lee-scripted Spider-Man story. This is quasi-superhero storytelling that is so unique that it would probably be considered too outsider when compared to current superhero comics. However, the kind of energy, thinking, and imagination Jaime put into the visual storytelling (both script and art) in "Ti-Girls Adventures'" has largely been unseen since the heyday of Stan Lee/Jack Kirby Marvel.
Love and Rockets: New Stories #2 reminds us, as the first issue did, that comic books from the Hernandez Brothers are always a welcome thing. A year may be a long wait, but when it comes to Los Bros' coolness and greatness, time is neutral. I can always reread this and enjoy it just as much as I did the first time.
A-
Last Updated: May 19, 2020 - 12:25