Comics / Comic Reviews / More Comics
Love and Rockets Vol. 4 #1

By Leroy Douresseaux
April 6, 2017 - 20:54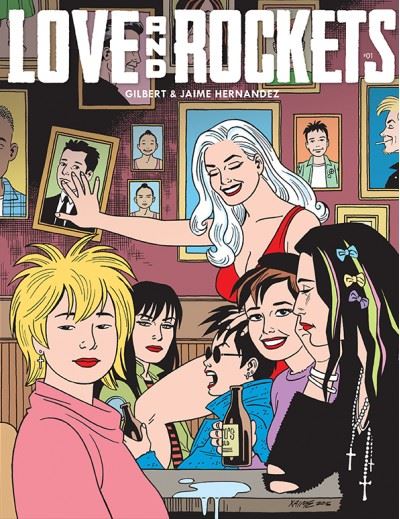 Love and Rockets Vol. 4 #1 cover image
The seminal alternative comic book,
Love and Rockets
, produced by brothers
Gilbert Hernandez
and
Jaime Hernandez
("Los Bros"), has been published since 1982 by Fantagraphics Books. It started as a magazine-sized comic book that ran for 50 issues (1983 to 1996) and later returned for a 20-issue run as a standard-sized comic book, (Vol II, 2001-2007). Then, it became an annual graphic novel series which ran for eight volumes,
Love and Rockets: New Stories
(Vol. III, 2008-2016). [It is important to note that Gilbert and Jaime do not collaborate, and that each brother had his own characters and stories.]
Late last year,
Love and Rockets Vol. IV
returned the series to its comic magazine format that fans of the original series fell in love with and probably still love and prefer. Actually, I am one of those fans who prefers the original format, but I understand that for various reasons the creators and publishers felt the need to initiate format changes at different times.
Under a front cover by Jaime,
Love and Rockets Vol. IV

#1
offers four stories, three by Jaime and one by Gilbert (Beto). In Gilbert's story, which is this issue's centerpiece,
Baby Fritz
, daughter of
Rosalba "Fritz" Martinez
(actress, dancer, film producer), is plumbing the secrets and secret history of her mother's life. Meanwhile, Fritz's wife,
Pipo Jimenez
, is demanding a divorce, which Fritz is reluctant to grant. However, the bigger bombshell is a secret child.
Jaime's entries begin with "I Come from Above to Avoid a Double Chin," the continuation of his recent "punk-reunion concert" story arc.
Maggie
discovers that some of her old friends don't want to be punk anymore, and that some don't want to hate on
Julie Wree
anymore, either. And there is a fight and minor bloodshed. Next,
Tonta Agajanian
is attending a mini-comix show to sell her comix, but her half-sister,
Vivian "Frogmouth" Solis
wants to steal the show. Plus, the adventure of
Anima
and
Lumina
continue with long-dong
Katak
.
THE LOWDOWN:
I knew that I would like the return of Love and Rockets to a magazine-sized publication. For me, there was something magical about that comic book at that size when I picked up my first issue all the way back in 1985 (probably
Love and Rockets
#11 – cover dated April 1985).
I think that when I read a Los Bros. comic book in a larger size, preferably magazine-sized, I undergo a sensory experience that goes beyond just reading a normal comic book. I feel a sense of mystery in the black and white comix of Jaime, his pages filled with solid blocks of black to contrast the perfect cool white spaces. That graphical style defined Jaime's early B-movie sci-fi, monster, and wrestling stories and made me feel as if the magical mystery tour had dropped me in a fictional world that was wild, weird, and wonderful. I couldn't get enough.
In Gilbert's comix, size did matter. In the magazine L& R, the drama of Palomar was big without being melodramatic, although I assume melodrama and soap opera influenced Gilbert's comix. That dramatic heft made even Beto's weird fiction comics seem solid, as real as they were surreal and fantastical. Thus, the violence in a story featuring aliens, superheroes, and other unreal beings was as sudden and shocking as the violence that took place in stories starring Luba or Fritz.
For me, the bigger Love and Rockets Vol. IV #1 is a return of the real. It is drama writ large, and the return of the allure and the mystery – in Locas, in Mechanics, and in outer space.
I READS YOU RECOMMENDS:
Anyone who has ever read even one story from Love and Rockets will want
Love and Rockets Vol. IV
.
A
Last Updated: August 31, 2023 - 08:12